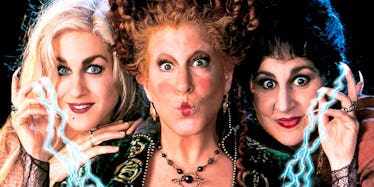 A 'Hocus Pocus' 25th Anniversary Special Is Actually Happening With All The Original Stars
Disney
The revival of the 1993 film Hocus Pocus into the public discourse these last few years has been a testament to the power of nostalgia. When the movie first came out, it was an ugly flop. The script had been initially written for the Disney Channel as a smalltime TV movie, but someone up high got the wild idea to make it a big screen feature starring Bette Midler. But it was a film that came out at the right time to become a cult classic, and now a Hocus Pocus 25th anniversary special is coming to Freeform this Halloween.
The weird, half-period piece, half-'90s hack job has gained fans over time, but even today, Rotten Tomatoes still only ranks it at 30 percent. The real reason it's become so popular is most people watched it as small children, and it became one of those family-friendly movies played on basic cable at Halloween every year. (Freeform's yearly holiday marathon celebrating family-friendly scares leans on it heavily.) The movie became one of those holiday traditions, kind of like A Christmas Story, by sheer repetition.
Now Freeform, facing their first Halloween without any of the Harry Potter films, is going all in on the Hocus Pocus love with the Hocus Pocus 25th Anniversary Halloween Bash.
Freeform announced it will air a star-studded Hocus Pocus 25th anniversary special on Saturday, Oct. 20. The new special, Hocus Pocus 25th Anniversary Halloween Bash, will air as part of the network's new 31 Nights of Halloween programming block.
To that end, the channel has rounded up everyone part of the original production they can get their hands on, and then some.
The celebration of the cult-classic film's anniversary will feature interviews with the movie's stars Sarah Jessica Parker, Kathy Najimy, Omri Katz, Thora Birch, Doug Jones, Amanda Shepherd, Larry Bagby, Jason Marsden, and Tobias Jelinek, as well as director Kenny Ortega, writers Mick Garris and David Kirschner, choreographer Peggy Holmes and composer John Debney. Dove Cameron, PrettyMuch and Junior New System will perform.
Freeform goes on to say more special guests will be announced closer to the airdate. Does this mean they're still working on getting Better Midler herself to show up?
But everyone knows why the film is really so beloved, other than the musical numbers: the insane, over the top costumes and makeup.
The event will also include a Hocus Pocus costume contest judged by Sharon Osbourne and Kelly Osbourne. Drag queen Lady Bunny will serve as the resident DJ.
The Hocus Pocus movie will also be heavily featured as part of the 31 Nights of Halloween on Freeform, kicking off the month on Oct. 1 airing at 8:50 p.m. ET, along with ParaNorman and Tim Burton's The Nightmare Before Christmas. It will also close out the holiday with a full day of a Hocus Pocus back-to-back marathon, beginning at 7:30 a.m. ET and ending at 12 midnight.
The Hocus Pocus 25th Anniversary Halloween Bash airs Saturday, Oct. 20, 2018 at 8:15 p.m. ET on Freeform.