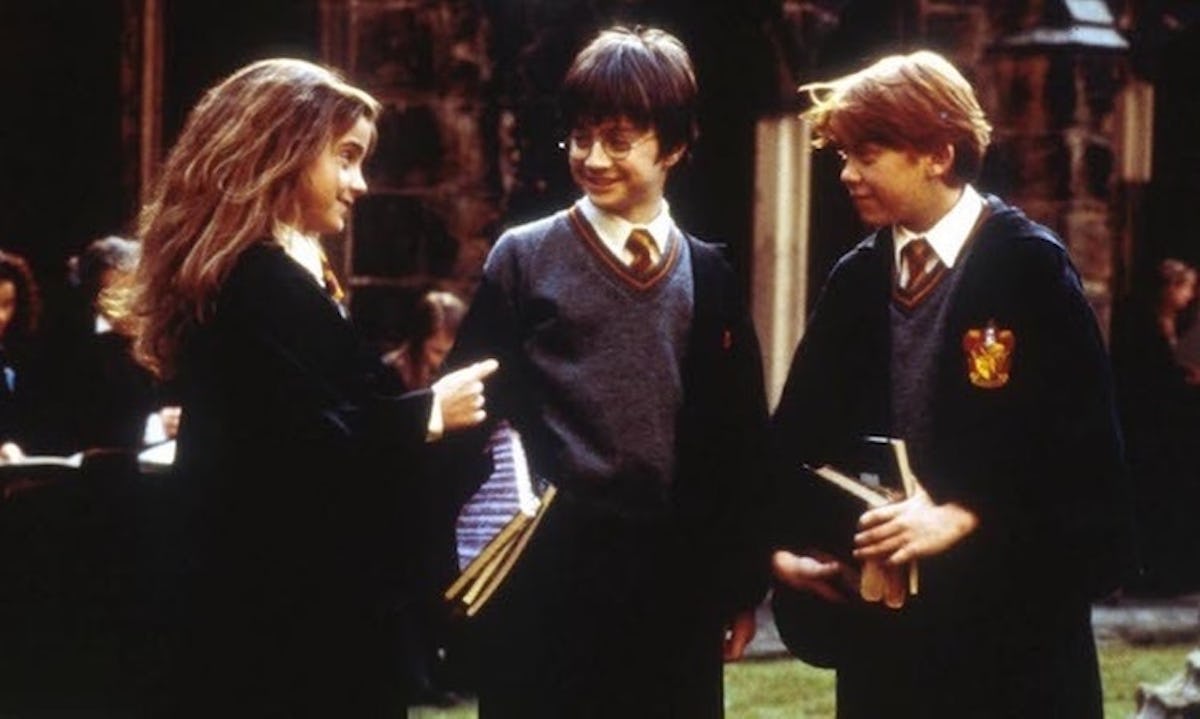 A Harry Potter River Cruise Exists & I Want To Spend The Rest Of My Life On It
WARNER BROS.
Some families choose to spend their holidays meeting Mickey aboard a Disney cruise, while others decide to conquer space missions on a Star Trek cruise (trust me, it exists and it's not a joke). But if you're a tried and true Harry Potter fan, and you're craving a Hogwarts-themed nautical journey, feel free to ditch your Muggle friends and family this upcoming summer holiday, and embark on the new and highly-anticipated Harry Potter river cruise. It's definitely an official thing, it's happening in this lifetime, and trust us; it's the magical journey of our dreams.
We're thinking that Dumbledore may have quit teaching to run a cruise ship, because with the flick of their wands, The Barge Ladies Cruise Company has come out of nowhere to grace us with the gift of a weeklong Harry Potter river cruise. Starting in August 2018, according to the company's site, everyone who didn't get that highly anticipated Hogwarts letter at age 11 will finally get that long-awaited opportunity to experience the wizarding world... from the comfort of London's beautiful River Thames. All wizards and witches will be enchanted by a cruise that features various filming locations from the franchise, some HP cuisine, and even Warner Bros. Studios. No broomsticks, and definitely no following any spiders will be required.
Make sure to book your tickets faster than Hermione can correct your "leviosa" pronunciation, because Barge Ladies' site says that the Harry Potter Magic Cruise only runs from Aug. 5-11 and Aug. 19-15, which is pretty limited. And even the use of a Time Turner probably won't help you snag a spot. If you're successful in booking something, though, you might need to sell your Firebolt for a room, because it costs a hefty $4,190 per person. The experience, however, include tours of really incredible behind-the-scenes sites. It's definitely worth selling your broomstick for (sorry, Quidditch team).
Sailing aboard a ship called the Magna Carta, though not as sweet as riding a hippogriff, is set to be a smooth and relaxed ride, coming from Hampton Court. According to Entertainment Weekly, the cruise includes a variety of stops, such as a visit to Virginia Water (where Harry meets Buckbeak inThe Prisoner of Azkaban), Picket Post Close (aka 4 Privet Drive in The Sorcerer's Stone), Warner Bros. Studios for a Harry Potter set tour, and even Oxford's Christ Church College, where scenes from Hogwarts' Great Hall were shot. It honestly sounds like a once-in-a-lifetime experience that's bound to be pretty freaking unforgettable.
All of the HP props, costumes, and sets were preserved for this, so HP fans and wizard wannabes could transport themselves directly to the Harry Potter world, no floo powder required. Barge Ladies founder Stephanie Sak (who apparently isn't Dumbledore... still investigating) told Good Morning America about the creation of the widely-adored cruise. She said that "the itinerary is [her] baby, and it has been a professional highlight to see it come to fruition."
So while putting together this life-changing amazing HP cruise was Sak's true passion, going on this freaking amazing trip is definitely mine. Mom, if you're reading this: birthday present? Pretty please?
If you're prone to seasickness (er, river sickness), and you're not super into boats, you can still experience the magic of this vacation by taking a trip to Universal Studios' Wizarding World of Harry Potter. Between buying wands and getting sorted into your appropriate house (please Gryffindor), there's literally no end to the magic. The best part is, actually, that fans can even try a variety of Harry Potter-themed food and beverages. Each and every one of them apparently will make you feel like a witch or wizard, and going there is a dream come true. I've never been, but it's definitely at the top of my bucket list, along with the river cruise. August could not come sooner.
Check out the entire Gen Why series and other videos on Facebook and the Bustle app across Apple TV, Roku, and Amazon Fire TV.