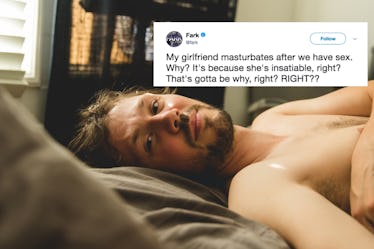 Some Guy Wondered Why His GF Masturbates After Sex & Buddy, If You Have To Ask...
Fellas, I have a little sexual tip for you. Now, I'm no sexual health expert, but I can tell you with some confidence that, if your girlfriend is masturbating after intercourse every time, it's probably not the best sign. Now, there are some other reasons she could be doing this. But, realistically, the most probable reason why she's doing this is because you're not satisfying her in bed. For most people, this would be common knowledge. But not for one dude who straight-up asked a sex columnist at The Guardian: "My girlfriend masturbates after we have sex. Why?"
In full, the anonymous dude's question reads:
I have been in a relationship for nine months. I thought the sex was good for us both, but when we finish she tells me to shower. I wondered why, and now I know — she masturbates. She has done it multiple times; I think she is insatiable. What should I do?
OK, let's unpack his question for a second here. He thought the sex was good for them both. She inexplicably asked him to shower after they have sex every time they finish, and he just recently learned it's because she wants to masturbate in secrecy while he showers. He then just makes the assumption that this is happening because she is "insatiable." LOL, YOU CAN'T MAKE THIS STUFF UP, PEOPLE.
Needless to say, the moment the article was published and shared on Twitter, people gave this guy some very necessary real talk.