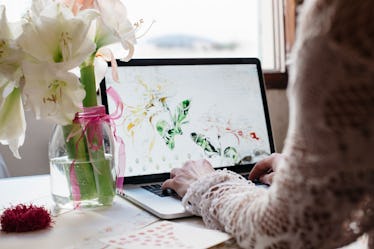 A Grand Earth Trine Is Happening & It Will Help You Materialize Your Dreams
Have you ever felt the urge to do something, and yet struggled to take the initiative? While there's a time and place for everything, the current astro-weather plays a heavy role in your level of assertiveness and sense of motivation, which is why a grand earth trine on May 14, 2019 could be everything you never knew you needed. Before revealing all the details behind this celestial pick-me-up, let's take a closer look at the element earth. Not sure if you've noticed, but this astrological element has been prominent since the beginning of the year, and it'll continue to influence everyone all throughout 2019.
The best way to understand earth's essence and power is by doing the following: think about the personalities of those born under the earth sign: Taurus, Virgo, and Capricorn — doing so can help you get a better grasp of earth's energy. Earth a symbol of our abundance and solidity. Taurus represents the material possessions, security, and sensuality you crave; Virgo's earthiness is evident in the detailed-precision, evidence-based facts, and physical state of consciousness; and Capricorn provides a general sense of leadership, determination, and perseverance to succeed.
If you want to take it one step further, take a look at the three modalities expressed via the earth signs mentioned above: cardinal, fixed, and mutable. The earth signs all have something in common, but their powers emerge in different ways. For instance, Taurus is fixed, and the fixed modality speaks for itself in the sense that it's fixated on one thing. According to AstroYogaLove.com, the fixed signs secure and stabilize whatever was initiated by cardinal signs, while the mutable signs adapt what was initiated and stabilized.
Capricorn is a conservative cardinal sign, so it prefers to take the more traditional approach when taking the lead. Virgo, on the other hand, is a mutable sign; hence its innate versatility and chameleon-like energy. Each of the earth signs express themselves differently, but they all provide an important ingredient.
How would you make the most of these energies? If your guess is to put in the work, you're right. The astrological element earth is rich and sustainable, but it's up to each individual to use this energy wisely.
Grand Earth Trine: May 14, 2019
The element earth will play a big role in our lives this year, given Uranus' recent shift into slow-moving Taurus, along with Saturn, Pluto, and the South Node's teamwork via structured Capricorn. But this week, on May 14, a grand trine occurs when three planets align in a perfect equilateral triangle, making 120-degree angles to each other, according to AstroStyle.com. The grand trine will become a grand earth trine due to the harmonious contact between the Taurus sun, Virgo moon, and Saturn-Pluto-South Node conjunction in Capricorn.
So how can you use this grand earth trine to help you succeed and bring stability to you life? With the sun beaming through stability-seeking Taurus and the moon in Virgo providing everyone with the instinct to create order in their lives, both of our conscious and unconscious selves are in alignment. And in the midst of making contact with Saturn-Pluto retrograde and the South Node in Capricorn, you'll be given no choice but to release the previously-set structures that no longer serve your highest truth.
All in all, with this grand earth trine taking place before this month's full moon in Scorpio on May 18, each and every one of us are currently being reminded of our power within, not to mention the resources all around us. What will you do with this power? How can you materialize the comfort, success, and peace-of-mind you so desperately deserve? You may have trouble letting go during this time, but it's important to remember the bright light waiting for you at the end of the tunnel.
Use this energy wisely.