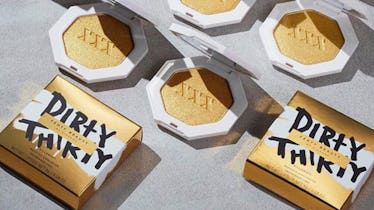 Rihanna Is Celebrating Her Birthday With A Fenty Beauty Giveaway & It's So Easy To Enter
On Feb. 20, Queen Rihanna turned 30. Festivities were held, limited edition products were launched, and a massive beauty giveaway was announced. So if you're having wild thoughts because you haven't been able to get your hands on your favorite Killawatt Freestyle Highlighter yet, just enter this massive Fenty Beauty giveaway for a chance at winning the entire line.
Fenty Beauty isn't even a year old yet, and they're already having a massive birthday celebration. In honor of Rihanna's birthday, the brand assured us RiRi celebrated in true style like only a true queen could. Fenty Beauty posted an image of a massive three-tiered, Fenty Beauty-themed birthday cake topped with shimmery edible Match Stix and Killawatt Freestyle Highlighters. A river of gold glimmering goodness ran down the center of the cake in honor of the iconic Fenty Beauty Trophy Wife highlighter ($34; sephora.com) that flew off shelves and served as the cake topper.
Imagine slicing into that dripping, illuminated goodness and consuming a molten slice of gold, glittering cake. Finally, the saying "you are what you eat" would come true in the most lavish and sparkly way possible. I'm sure Rihanna was honored to have her deliciously gorgeous Trophy Wife highlighter made in food by Jasmine Rae Cakes.
It seems that Trophy Wife was really the theme of the day. In addition to her cake, Rihanna also received a custom-made version of her highlighter in a gorgeous gold, sparkling case. The packaging shone bright like a diamond (heh heh), but still not nearly as bright as the one-of-a-kind illuminator inside. The product was also embossed with "XXX" rather than the usual "FB" logo, which was merely a clue into the release to come.
In honor of Rihanna's third decade, the brand also launched a limited edition version of the best-selling illuminator. Unfortunately, it's not as lavish as Rihanna's gold-studded one, but it's still pretty darn rad if your a makeup collector like myself.
Like Rihanna's custom Trophy Wife, the product is embossed with "XXX" inside. It also comes in a gorgeous gold sleeve with the words "Dirty Thirty" written across the front. Forget "Thirty, Flirty, and Thriving." RiRi is way past that.
The custom Dirty Thirty Trophy Wife is available for a limited time only, so if you stan Rihanna hardcore, make sure to snap yours up now from Fenty Beauty's website.
Finally, as their last announcement on National Rihanna Day, the brand also announced a massive (perhaps the most massive in Fenty Beauty history) giveaway. If you tag a friend on this post, you and your friend will be entered to win the limited edition Dirty Thirty Trophy Wife highlighter.
Hold on to your umbrellas, kids, because that's not even the best part. One lucky grand-prize winner will receive the limited edition highlighter and the entire Fenty Beauty collection. Yup, the whole thing. If you've been longing for the gorgeous Stunna lip paint, you got it. Haven't been able to find your shade in the Pro Filt'r foundation? You got it now, kiddo! Seriously, you'll never want for a Fenty Beauty product again (until she releases something new, that is).
There are a few restrictions, of course. You must be 18 years of age or older to answer. The grand prize winner must live in any country the fentybeauty.com ships to. The brand will be contacting the winner by slipping into the DMs, so make sure you check them regularly. The contest ends Feb. 28 at 11:59 p.m. PST.
Bless you on your birthday, RiRi. May you celebrate in style like only an icon could. If you want to wish RiRi a happy birthday, then be sure to enter this massive giveaway. There's no better way to support her tan by repping her brand.