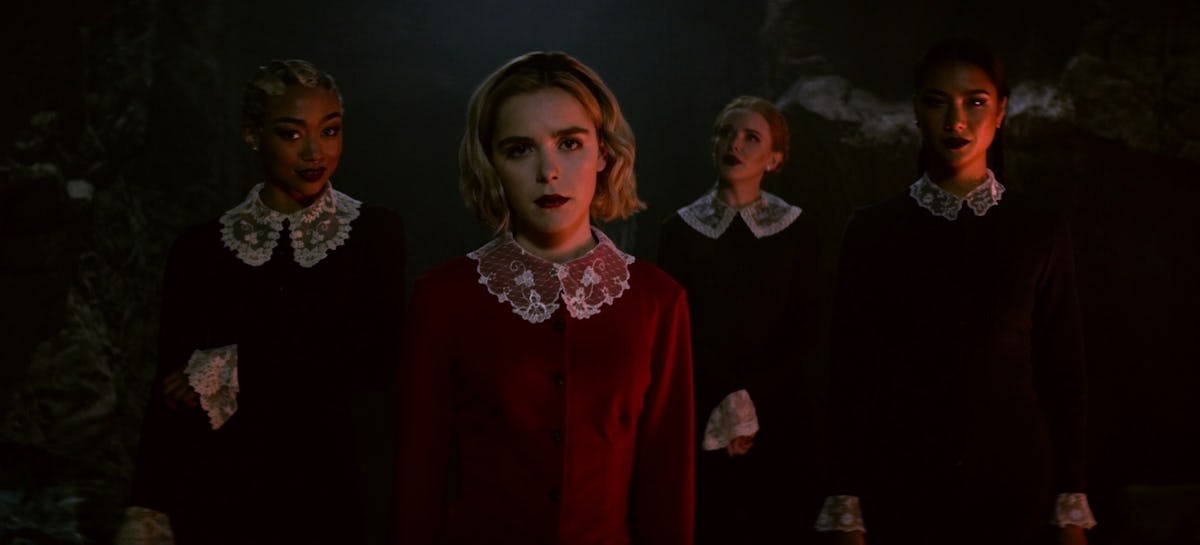 A 'Chilling Adventures Of Sabrina' YA Prequel Novel Is Coming This Summer
Netflix
Riverdale returns this week to the CW, but the not-quite companion series Chilling Adventures of Sabrina (henceforth CAOS) still has months to go before a new set of episodes reaches Netflix. Despite the show whetting the appetites of fans with a holiday special back in December, viewers still have until April before Season 2 arrives with answers to fans most pressing questions, and then an even longer wait until Season 3. But fans have needs. That's why there is a Chilling Adventures Of Sabrina YA prequel novel on the way to help tide things over this summer.
First spotted earlier this month on Amazon, Scholastic has confirmed there is a CAOS novel on the way, called Season of the Witch. In fact, the company got in on the show before Season 1 was even released:
In a statement to SyFy Wire, Debra Dorfman, VP/Publisher of Licensed Publishing said the following:
We are publishing the successful Riverdale [books based on The CW] show from Archie Comics, so when we heard that the same showrunners and producers were creating Sabrina, we jumped on it right away. We just loved everything they're doing with the show. We love the whole girl power angle and so we're just very excited and this is the perfect genre for us.
Here's the synopsis for Season of the Witch, via Amazon's pre-order page:
It's the summer before her sixteenth birthday, and Sabrina Spellman knows her world is about to change... time is running out on her every day, normal world, and leaving behind Roz and Susie and Harvey is a lot harder than she thought it would be. Especially because Sabrina isn't sure how Harvey feels about her. Her cousin Ambrose suggests performing a spell to discover Harvey's true feelings. But when a mysterious wood spirit interferes, the spell backfires... in a big way. Sabrina has always been attracted to the power of being a witch. But now she can't help wondering if that power is leading her down the wrong path. Will she choose to forsake the path of light and follow the path of night?
Why does it seem like every time Sabrina casts a spell around Harvey it backfires? Perhaps she will learn her lesson one of these days and stop.
As for which way Sabrina chooses, Season 1 already answered that. But like all prequels where fans already know what happens next, the joy in this story is about getting to know the characters the way they were before everything changed. And in this case, fans will be learning a lot more about Ambrose.
They're definitely gonna get a lot of extra story development, a lot of behind-the-scenes, a lot of insights. It's like lore that they would not get from just watching the TV show. When you make a TV show, there's only so much you can do, you have a limited [amount] of time. With the book, we could take a deep dive into the character and just expand the storyline.
The first CAOS novel, Season of the Witch (The Chilling Adventures of Sabrina, Book 1) will be out on July 9, 2019. Fans can pre-order now.