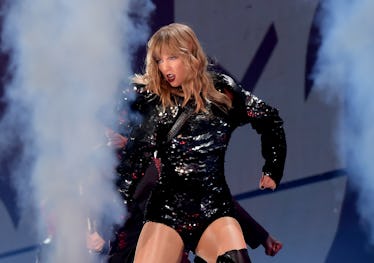 Taylor Swift Is Starring In A 'Cats' Musical Movie & Everything Feels Right In The World
Kevin Winter/Getty Images Entertainment/Getty Images
If you were a musical theater kid in high school, today is the kind of time you live for. After a drought in the making of movie musicals between their golden years in the mid-20th century and their slow return in the last five years or so, another major musical that you belted along with in your childhood bedroom is hitting the big screen soon. A Cats musical movie is coming, and Taylor Swift, whose love of cats is evident on social media, is set to star. BRB, I'm planning out my singalong screening now.
Swift joins a confirmed cast of James Corden, Jennifer Hudson, and Ian McKellen in the adaptation of Andrew Lloyd Webber's 1982 Broadway musical based on T.S. Eliot's Old Possum's Book of Practical Cats. A tribe of cats called the Jellicles gather on the night of the Jellicle Ball to essentially decide which of them — wait for it — will ascend to the Heaviside Layer and begin a new life. It sounds totally wild, but the show has solidified itself as a hit over the years. Although a revival of the musical recently closed on Broadway, the original production of Cats ran from 1982 to 2000, even becoming the longest-running Broadway show from 1997 to 2006. Since then, musical theater divas have always aspired to deliver a rendition of one of its most famous songs, "Memory," that will bring the house down.
Although Swift is new to musical movie adaptations, her co-stars are no strangers to the concept. American Idol alum Hudson won an Oscar for her supporting performance in 2006's Dreamgirls, while McKellan voiced Cogsworth in the 2017 live-action remake of Beauty and the Beast. Corden starred in Into the Woods in 2014, and his "Crosswalk the Musical" talk show segment even featured a montage of Andrew Lloyd Webber songs recently. I see you and your sneaky planning, James Corden.
The cast are in good hands for this kind of project, joining director Tom Hooper for the start of production later this year in the U.K. Hooper directed what is often seen as the long-awaited return of large-scale movie musicals, Les Miserables, in 2012, garnering attention for having his actors sing live on set. I'm not trying to get ahead of myself, but if Cats is received well, I have my fingers crossed for Corden to host the Oscars in 2020 and make a joke about singing live on camera a la Neil Patrick Harris at the Tonys.
While her movie career might be limited to a (honestly legendary) role in Valentine's Day, Swift was actually linked to the role of street thief Eponine in Hooper's Les Miserables. English actress Samantha Barks, who played Eponine in the show's West End production, ultimately won the role, but it's clear that Swift has always stuck out in Hooper's mind. There's no word of who is playing which role yet, but either Swift or Hudson will likely play social pariah and former "glamour cat" Grizabella, who sings "Memory." Brace yourself for fiery discussions among theater lovers about which lady is more qualified for the role, but I'm sure Swift will commit to whatever role she has with feline ferocity.
Theater fans have already taken to Twitter with mixed thoughts about the casting news, but it's safe to say that Swifties are totally on board with Swift's upcoming endeavor and her inevitably channeling the energy of her own beloved cats for the movie.
I definitely wouldn't be opposed to a Carpool Karaoke segment with Swift and Corden to celebrate them working together. Of course, this wouldn't be a true carpool singalong without the two actually wearing cat ears too, right?