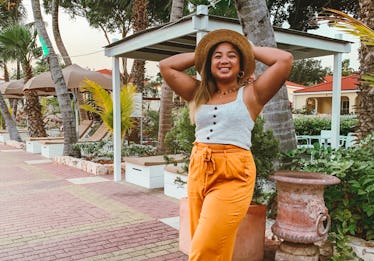 I Travel Every Other Week & Pack These 9 Random Items That Every Millennial Will Find Useful
I'm a frequent traveler. I hop on at least one flight every other week, and I am always unpacking and repacking my suitcase. I have a whole folder that's filled with notes in my phone dedicated to packing lists from previous trips. Although I have my regular list of staple items that everyone should pack (like deodorant, headphones, a toothbrush, and phone charger), I also include some useful items to take traveling that you may not immediately think to bring, but really should consider. These items have saved me on more than one occasion, and I know that I won't be traveling without them anytime soon.
Things like my handy dandy fabric steamer, a pair of tweezers, and a cute hat that works with all of my outfits are things that I absolutely cannot hit the road without. Though they may seem insignificant, random, or unnecessary at first, they've become part of my must-have packing list.
Needless to say, the next time you're packing up your suitcase for a big adventure, consider putting a few of these things in your bag, too. They'll be super useful and make your life on the road a whole lot easier. Happy packing and travels!