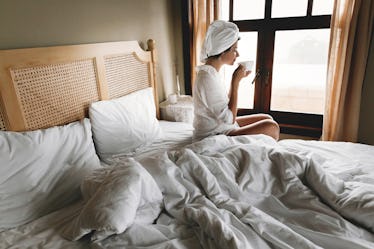 I Travel For Half The Year & These Underrated Hotel Amenities Make Me Feel At Home
Shutterstock
Traveling for half of the year can be quite exhausting. The constant unpacking and repacking, long hours spent at the airport and on planes, all the time spent planning the trip, and exploring once you get there can start to take a toll on me if I have long stretches of back-to-back trips. But there are a few underrated hotel amenities that never fail to make me feel a little more comfortable and at home.
From plush bath robes, to USB outlets, to filtered water, to wall hooks, no detail is too small to help make me feel like I haven't been on the road for a month. Though I admittedly don't spend that much time in my hotel room whenever I'm abroad (I try to spend as much time as possible exploring.), being able to come back to a room that feels like I'm totally settled in makes a world of difference.
If you're a frequent traveler, you probably already keep your eyes out for these amenities. And if you don't travel as much, these are definitely things that will put the cherry on top of a perfect stay. Read on for some of my favorite underrated hotel amenities that make a major difference in my personal traveling experience.