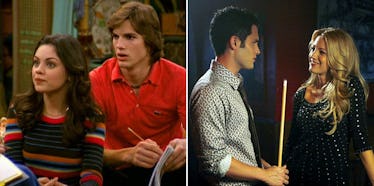 9 TV Show Couples That Dated IRL & Made Our Dreams Come True
FOX/The CW
What happens on set doesn't always stay on set. And I'm absolutely okay with that (read: overjoyed). Time and time again, our on-screen favorites take the big leap from TV romance to real world relationship, because some chemistry is just too authentic to fake. To be fair, no one should be all that surprised to begin with. Pretending to fall in love makes falling in love a whole lot easier - or so it seems. Forget dating apps and dark bars, television studios seem to be the hotspot for singles. Celeb ones, that is. And there's no complaints either. For fans (myself included), it's gratifying to see a show's most shippable pairing making it official off-screen *swoon*. It's not all acting! Love is real! And while I may or may not be overly invested in the love lives of the rich and famous, it's easy to admit how heartwarming it is to see TV show couples that dated IRL.
Not all co-stars wind up friendly, after all. Let alone dating, marrying, and having kids together kind of friendly. Whether they're still hot and heavy or their relationship fizzled faster than it took me to binge-watch their series, these nine on and off set relationships are everything.
1. Cole Sprouse and Lili Reinhart
After playing it coy for months, Riverdale co-stars Lili Reinhart and Cole Sprouse finally let it slip that Bughead wasn't just an on-screen affair. Things looked pretty official during a PDA-packed Paris trip in April. It is the city of love, after all. But their walk down the 2018 Met Gala red carpet served as the ultimate coming out party just a month later.
2. Blake Lively and Penn Badgley
I prefer not to recognize a time pre-Ryan Reynolds/Blake Lively, but it did exist. Before striking up a relationship with her now-hubby and Green Hornet castmate (girl's got a thing for co-stars), Lively romanced Gossip Girl love interest Penn Badgley. After meeting on set in 2007, a spark quickly ignited between the two. By 2010, they had split for good, but their characters remained on and off until the series end in 2012. Badgley went on to marry singer and doula Domino Kirke in February 2017, and then again in June, People reports. Meanwhile, Reynolds and Lively continue to define relationship goals.
3. Mila Kunis and Ashton Kutcher
The fact that Ashton Kutcher, Kunis' now husband, was her first kiss (ever!) sounds totally charming. But given their substantial age gap at the time, it was not exactly the rom-com we all originally imagined. Speaking to Howard Stern in June 2017, Kutcher admitted it was weird, saying, "It was really awkward because I'm like a 19-year-old kid ... She was 14! She was like my little sister. I wanted to make sure she was okay."
Taking a cue from their similarly-themed films, No Strings Attached and Friends with Benefits, the longtime pals embarked on a casual relationship. But it didn't last — the casualty of it, that is. Also speaking to Stern in a July 2016 interview, Kunis confessed, "We started dating with the idea we were both never going to get married ... A year later we were like, 'Tomorrow, let's [get married.]'"
They've since married and welcomed two children, Wyatt Isabelle, 3, and Dimitri Portwood, 2. Long live Jackie and Kelso.
4. Adam Brody and Rachel Bilson
Ah, the nostalgia. While starring in the hit Fox series, The O.C., Adam Brody and Rachel Bilson's characters, Seth Cohen and Summer Roberts, had serious on-screen chemistry. So much so that they began an unscripted relationship IRL in 2003. The iconic 2000s couple called it quits three years later and found love elsewhere. According to People, Brody secretly married Gossip Girl alum Leighton Meester in 2014 and welcomed daughter, Arlo Day, just a year later. Meanwhile, Bilson's nearly decade-long relationship with former co-star Hayden Christensen came to an end in 2017. The pair shares daughter Briar Rose, 3.
5. Milo Vetimiglia and Alexis Bledel
While the 2016 Gilmore Girls revival left us with major questions concerning the state of Rory's relationship with reformed bad boy Jess Mariano, real-life stars Alexis Bledel and Milo Ventimiglia closed the book on their own romance long ago. The former co-stars began dating in 2002 and remained an item for four years. Ventimiglia's rep confirmed the breakup to People in July 2006, saying "he is currently single."
Of course, his single status didn't last long. Milo moved on with Hayden Panettiere in 2007 before splitting in 2009 (who, shocker, was another on-screen girlfriend). Bledel, on the other hand, found lasting love with Mad Men castmate Vincent Kartheiser. The ultra-private pair married in a quiet ceremony in 2014. All hope for Bledel and Ventimiglia may be gone, but at least there's still Rory and Jess to ship.
6. Scott Foley and Jennifer Garner
Bennifer who? Long before Jennifer Garner married now-ex Ben Affleck, she called Scott Foley hubby. After portraying Foley's long-distance girlfriend, Hannah, during a brief stint on '90s drama Felicity, the pair fell for each other. Marrying in 2000, Garner went on to star in Alias and Foley remained resident nice guy Noel Crane until the Felicity series finale in 2002. While my love for Foley's character will live on forever, things didn't exactly end in a happily ever after for the couple. They separated in 2003.
7. Linda Cardellini and Jason Segel
One-season wonder Freaks and Geeks was a short-lived success. But out of it came a much longer relationship for Jason Segel and Linda Cardellini. The on-screen crushes continued things off-air for years, until splitting, which may or may not have inspired Segel's naked breakup scene in Forgetting Sarah Marshall. In 2008, he spoke about the incident to the New York Times, saying, "I was trying to experience [the break up] viscerally, as a person. But all I could think was: 'This is hilarious. I cannot wait for her to leave so I can write this down.'" Way to look at the glass half full, Jason.
8. Charlie Heaton and Natalia Dyer
I am team Steve until the day I die, but I have to admit this IRL Stranger Things coupling makes so much sense. After Charlie Heaton and Natalia Dyer's characters, Jonathon and Nancy, finally ~got it on~ in Season 2, fans began speculating about an off-set spark. Their chemistry was palpable, people! The co-stars appeared on each other's Instagrams, were spotted out and about holding hands, and made their eventual red carpet debut in December 2017 at the Fashion Awards in London, according to Marie Claire.
9. Ginnifer Goodwin and Josh Dallas
Looks like he is just that into her. After meeting on the set of the ABC series Once Upon A Time, Snow White and Prince Charming actors Ginnifer Goodwin and Josh Dallas found their own storybook ending. Despite their just friends status upon first meeting (Dallas was married at the time), Ginnifer and her now-husband fell hard after his divorce. The couple married in 2014 and welcomed two princes-in-training, Oliver, 4, and Hugo, 2. All my faith in fairytales has been restored.