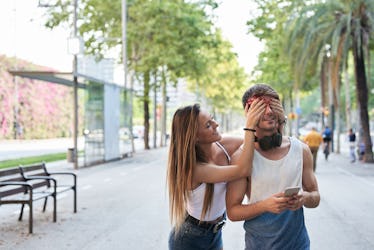 9 Adorably Thoughtful Ways To Surprise Your Partner So They'll Happy-Cry
Whether you're in a newly budding romance or living with a long-term partner, when you're in a relationship, it's easy to assume your boyfriend or girlfriend knows exactly how you feel about them. Nine times out of 10, though, this isn't the case. No one is a mind-reader, and even if you do tell them how much you care on a regular basis, sometimes, actions really do speak louder than words. By planning thoughtful surprises for your boyfriend or girlfriend every now and then, you can show them just how special they are and give them the attention you know they deserve.
If you're struggling to think of the right gift to give, the below list of sweet surprises is guaranteed to get you started on the right foot. Maybe you're celebrating their birthday or another special occasion, or perhaps you want to organize a surprise that comes completely out-of-the-blue. Whatever your intentions, I've got you covered. And before you say your partner hates surprises, think about the happy tears they'll shed when they realize all the effort you put in to making them smile.
These nine adorable ways to surprise your boyfriend or girlfriend are easily carried out and don't require a ton of time or money. Your partner's genuine reaction, however, is sure to be priceless.