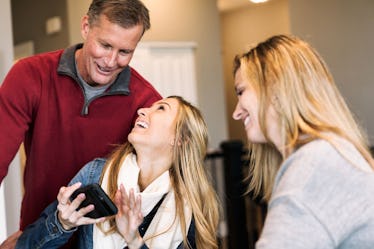 9 Hilarious Texts You'll Get From Your Parents The First Week Of College
When you received the acceptance letter to your university, you were certain of two things: you were leaving the nest, and the word "college" would make your parents, or parent figures in your life, burst into happy tears from there on out. You may have never lived away from home before, but you know your parents have done their best to prepare you. To them, you're still the little kid with pigtails and jelly sandals they dropped off at kindergarten, so you can expect a chain of texts from your parents the first week of college that are totally understandable.
Even going shopping for dorm room decor was a Kodak moment, because Mom took plenty of pictures. She may have even bought the same school sweatshirt as you, because she just learned how to take selfies and wants to "twin" on game days. Your dad may not be as telling, but you'll know by that super long hug and kiss on the top of your head that he's not really ready to let you go, either. (Not to mention, you've also gotten that responsibility talk so many times, you could recite it backwards.)
Seriously, though: Gotta love your parents and the way they deal with you becoming an adult. Maybe someday you'll understand, because you'll be in their shoes. Oh, and if you don't answer these nine texts in a timely manner, expect a follow-up text about whether or not you're OK.