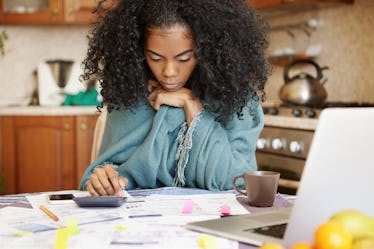 9 Struggles Every Broke Girl Understands When She's Trying To Save
Oh, money — sweet, beautiful money. How I love you so terribly much. It must be unrequited love, because as much as I adore those green bills, money just never wants to stick around. Don't get me wrong, I am trying to save, but it is unbelievably hard. If you're in the same boat as me, you totally understand the struggles of being broke when you want to save. We're just trying to get better — we really are — but the road to saving money is a long and hard one... especially when your favorite store is having a ridiculous sale that you really can't pass up.
Some people just don't understand that the struggle is all too real. We're not able to go out and party like we used to, because now we're broke AF. However, we're working on turning things around.
Believe me — I fully understand that it is hard saving money. You will get all of the sympathy from me on these nine struggles. We just want to finally have dollars in our bank accounts, even if it takes a little bit of time. Until we can find that genie in a lamp who will make us all millionaires, you have my free shoulder to cry on.