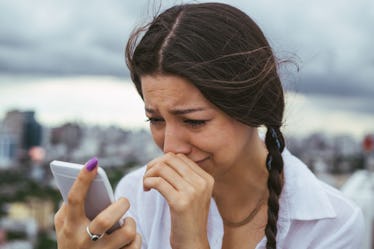 9 Sad Memes About Love That You'll Relate To If You've Ever Had A Broken Heart
I'm a firm believer in the legitimacy of a broken heart. When you go through a breakup or experience any kind of a relationship loss, it sucks — plain and simple. While you'll eventually get over it, it's going to hurt for a while, and that's OK! Fortunately, you're not alone, because literally every human has experienced that pain before at some point in their lives, so there are definitely tried and true coping mechanisms that might help. Additionally, if you're looking for some company for your misery, these sad memes about love will remind you you're not alone.
Sure, maybe you're recently single and still surviving on a steady diet of wine, ice cream, and the salt from your tears, but these memes are the perfect combination of funny and sad, and they'll help you remember that it does get better. Maybe you won't meet someone new right away, but in the mean time, it can't hurt to try and LOL at the reality that is heartbreak. One day, you'll look back on this heartbreak as a distant memory, or maybe even a lesson learned. Until then, these memes are the perfect way to find comfort in the fact that these feelings are common, and you will get through it.