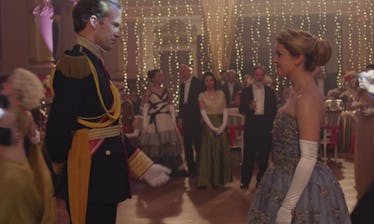 9 Royal Romance Movies To Get You Pumped For Harry & Meghan's Wedding
NETFLIX
Need to take a break from those nightmare-inducing true crime docs you've been binging on? Prestige dramas got you feeling bleak? Are you experiencing reality TV catfight overload? Sometimes a good old-fashioned fairytale is just the trick when it comes to an entertainment pick-me-up. Storybook endings are possible — just ask Prince Harry and Meghan Markle. The actress and the royal are set to tie the knot on May 19, which is just around the corner. While you count down to the big day, why not get pumped by viewing some classic royal romance movies?
"Personally, I love a great love story," Meghan told Vanity Fair back in 2017 while discussing her high-profile relationship. It's hard to find someone who doesn't, which is probably why escaping through a genre where princes and princesses live happily ever after — no matter how cheesy or unrealistic — feels like such a wholly comfortable activity. Harry and Meghan: A Royal Romance doesn't air on Lifetime until Sunday, May 13 and the official big day is on May 19, but you can get your royal romance fix courtesy of these nine majestic movies. Settle in on the couch and prepare to be enchanted! (Costume store tiara optional.)
1. A Christmas Prince (2017)
Netflix's attempt at the slushy holiday rom-com proved to be quite successful with this cutesy tale about a tabloid reporter who goes undercover as a tutor for the royal family. Security at the palace seems pretty lax considering the farce goes on for quite a while, yet it's just enough time to fall madly in love with a debonair prince.
2. The Prince and Me (2004)
This timeless fable of farm-girl-meets-ladies-man-prince finds the royal in question as the one pretending to be someone else. Luke Mably stars as a Denmark aristocrat who poses as a regular Wisconsin college student, ultimately winning the heart of Julia Stiles. Hmm, ya think the reveal of his royal identity will cause conflict in their budding courtship? You betcha!
3. Coming to America (1988)
Another story of a prince hiding his true self, Eddie Murphy's Coming to America is one of the funniest movies to come out of the '80s. If Soul-Glo and McDowells mean nothing to you, get yourself to a streaming service to watch this classic comedy immediately.
4. Roman Holiday (1953)
She's a princess sick of living a completely controlled existence. He's an American reporter looking for the next big story. Audrey Hepburn and Gregory Peck are a match made in Old Hollywood heaven in this delightful throwback fave.
5. The Princess Bride (1987)
"As you wish." If this now-famous quote from Rob Reiner's beloved 1987 comedy were a part of your wedding vows, I wouldn't be mad at it. This film holds up over 30 years since its release. Princess Buttercup and Westley forever.
6. Ever After (1998)
A fairytale inspired by Cinderella starring the adorable Drew Barrymore? You really cannot go wrong here.
7. Cinderella (1950)
Speaking of famous fairytale heroines with wicked stepsisters, why not go with the original Disney animated version? Sure — you'll have "Bibbidi-Bobbidi-Boo" in your head for weeks, but it's probably worth it.
8. The Princess Diaries (2001)
Clumsy, awkward, and gawky teen with bushy brows (2018 would allow them to be tweezed to oblivion, by the way) becomes princess of an exotic distant land practically overnight. Call it absurd and unfathomable, if you must. I call it ridiculously entertaining.
9. William & Kate: The Movie (2011)
Harry and Meghan may receive much of the spotlight these days, but 2011 was all about the future Duke and Duchess of Cambridge. The world was waiting for Prince William and Kate Middleton to say their "I dos" in April of that year, so of course Lifetime couldn't resist producing a biopic about how their fascinating relationship unfolded leading up to the big day.