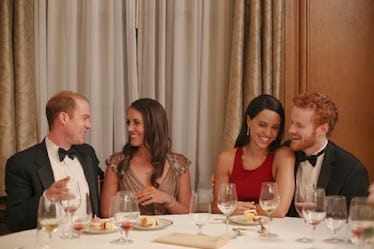 The 'Harry & Meghan' Lifetime Movie Finally Has A Premiere Date, So Get Your Tiara Ready
Lifetime
I'm that person who has no qualms about watching any and all documentary specials about the royals in the week leading up to Prince Harry and Meghan Markle's wedding. Basically, I'm an unashamed royals fangirl, and I don't care who knows. You better believe that an integral part of my pre-royal wedding week includes viewing the Lifetime movie Harry & Meghan: A Royal Romance, but until now, we didn't know when the TV movie would air. So, with that premiere info finally out there, when does Harry & Meghan premiere?
Harry & Meghan will premiere on Sunday, May 13, at 8 p.m. ET on Lifetime, less than a week before the actual wedding on May 19. The movie's scheduling follows the pattern set by Lifetime's 2011 movie about Prince William and Kate Middleton – the two were married on April 29, but the TV movie aired on April 18. As with that movie, Harry & Meghan will focus on the couple's relationship from the beginning and later explore the insane media attention they still receive.
Lifetime movies always contain a perfect balance of cheese and investing storylines, but based on some photos the network has released, I'm seriously convinced that Harry & Meghan has committed to portraying the most extensive TV version of the current royals.
In the past, both William & Kate: The Movie and the Hallmark film William & Catherine: A Royal Romance had some laughable representations of certain royal family members. From the very start of Harry & Meghan production, accurate-looking actors definitely seemed like a priority. Like, have you seen Parisa Fitz-Henley and Murray Fraser as Meghan and Harry?
As they've gotten older, both Harry and William have spoken more about their relationship with their mother Prince Diana. Leading up to his own pre-wedding TV movies (which we all have, right?), William had said far less to the press about his personal life than he does now. Having recently spoken about the state of his mental health following Diana's death, Harry's openness must have led to the decision to include Diana in the Lifetime film. Bonnie Soper will play Diana, while Maggie Sullivun will appear as Queen Elizabeth II.
It's unclear if Diana will appear in a flashback or as a ghost. Because of the personal information out there about Harry's relationship with her, I'm prepared for Diana's emotional, otherworldly approval of Meghan.
My dreams also came true when this movie cast actors to play William, Kate, and their kids. Starring as the royal couple, Burgess Abernethy and Laura Mitchell will definitely be that settled pair who look at Harry and Meghan and giggle, "Kids these days."
Preston Jakub Karwat and Briella Wintraub play Prince George and Princess Charlotte, and I just hope Karwat properly captures George's delight in aircrafts.
Among the other Lifetime photos released is a look at Harry's father Prince Charles (House of Cards actor Steve Coulter) and his second wife Camilla (Deborah Ramsey). Poor Charles hasn't received the most flattering portrayal in past TV movies, but it looks like Harry & Meghan will finally put him in a warm and fatherly light.
Filming of the movie wrapped several days ago, with Fitz-Henley commemorating the moment on her Instagram.
WHAT an adventure. We worked with fabulous actors, creators and crew. We braved the elements — and got some gorgeous days in there too. I got to take a look inside the life of a woman and a relationship I quickly came to admire and claim as inspirations.
What are the chances of Fitz-Henley scoring a meetup with the actual Meghan, guys? Clearly, Fitz-Henley is nothing but admiring of Meghan, and we all know that the two would have plenty of their experiences in the TV world to talk about.
With that wish thrown into the universe, I'll be marking my calendar for May 13.