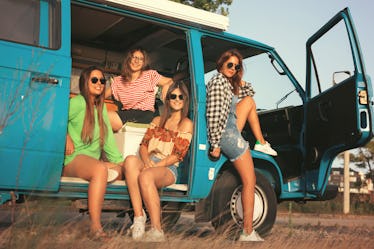 Cruise Into Summer With These Road Trip Traditions You'll Want To Continue Forever
Your best friends are your ride or dies — aka your road trip crew. There's nothing better than cruising with your crew in the car, singing along to your favorite songs, and heading someplace new and exciting. Let's be honest: Road trips are the best kind of plan, especially in the summer. You may also love the nostalgia factor that reminds you of going on long trips with your family as a kid. Since your squad is basically family, too, it's time to start some traditions of your own. Though, you might be wondering what road trip traditions to start with your best friends now, and continue forever?
Well, with every road trip, there are essentials you need to pack, including: a great playlist, yummy snacks, and even a few games. Mix up those must-haves and make them more memorable by starting any of these nine traditions ASAP on your next road trip adventure. Just like how you can always count on someone in your fam to ask, "Are we there yet?" now you can count on extra fun anytime your squad hits the road. All you need is a destination, your friends, and a tank full of gas to ensure you have the best adventure ever up ahead.