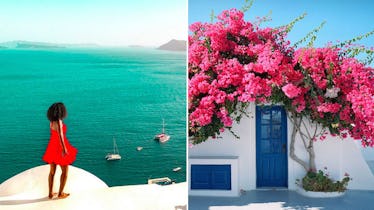 These Dreamy Pics Of Greece Will Make You Want To Catch A Flight This Summer
Lets be real here: If you haven't been to Greece yet, it's probably one of your top bucket list destinations. The ancient landmarks, cliffside views, colorful seaside homes, and local foods will make you want to book a flight ASAP. You've probably scrolled past photos of Greece on your Instagram feed and have gotten a serious case of FOMO. The glorious photos of the country give you a small taste of what it has to offer, and you just won't be able to get enough. These dreamy pictures of Greece will make you want to pack your bags and jet off to paradise this summer.
Greece is just one of those places you have to see in real life, because it's clear that pictures don't do it justice. The bleach white and royal blue homes are unlike anything I've seen my life, the tropical islands will make you want to sell everything you own to live on the beach, the historical sites will make you feel like you've taken a step back in time, and the Greek food will make you want to stay forever. Basically, Greece is the ideal vacation spot for anyone who wants to have the time of their life and score the sweetest Instagram shots.