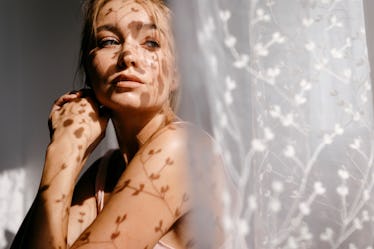 If You're Not Quite Ready To Send Nudes, Try One Of These Lewds
Westend61/Westend61/Getty Images
The word "lewd," by definition, describes anything "obscene," "vulgar," "sexually unchaste," or "wicked." But if you've lurked on Twitter or flicked through your intimate friends' "Close Friends" Instagram Stories, you might be hip to the new meaning of the word. "Lewd," noun: a photograph meant to sexually tease; not a full-on nude, but a semi-nude — a nude lite, if you will. If you're working your way up to sexting, the following lewds to send your partner are perfect for stoking sexual tension without stripping down entirely.
But before you start unbuttoning or unzipping anything, keep in mind that this photo exchange should always be consensual. If you're considering sending lewds to someone, do it because you crave a delicious crescendo from cleavage to boob pics, or a bulge outline to d*ck pics. Don't do it because the other person is pressuring you to send nudes and a lewd feels like an OK compromise.
Similarly, make sure your sexual or romantic partner is open to receiving erotic photos. No, you won't be sending anything too explicit, but you still need to respect their personhood and honor their boundaries. If you and your partner are on the same page, here are some ideas for your foray into subtle seduction.