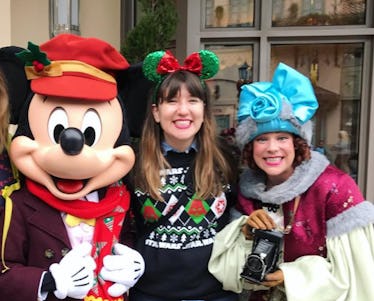 9 Holiday Mickey Ears Every Disney Lover Needs For Their Christmas 'Gram
Every Disney lover knows the importance of owning a pair or two of Mickey ears. A sparkly pair of ears is the perfect accessory to wear to the parks, and it's the cherry topping to any of your vacation photos. We've come a long way since the traditional ears, and now you can pretty much buy Mickey ears that are inspired by all of your favorite characters and even holidays. In fact, this holiday season, Disney has come out with some new holiday Mickey ears that every fan heading to the parks this Christmas season needs to add to their collection.
They are festive and magical, and you're sure to find a pair you absolutely love. As you enter the front gates to Disneyland, you can't look anywhere without spotting a pair of those beloved ears. So, you definitely need some for any holiday trip you're planning to The Happiest Place On Earth. They're available in the parks, but you can also find them online.
Mickey ears range from festive, to sparkly, to downright fabulous, and we love them all. Whether it's your first pair ever or you have far too many to count, you can't go wrong treating yourself to any of these nine holiday Mickey ears. Get them before you go to the parks, while you're there, or you can always ask for Santa Mickey to get them for you for Christmas. When you finally receive your pair of ears, don't forget to snap a picture of yourself in front of the castle, smiling ear to ear!