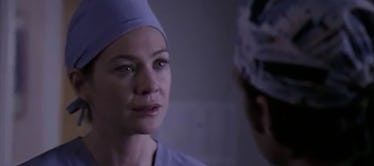 9 'Grey's Anatomy' Memes Only You & "Your Person" Will Understand
You and your best friend know exactly what Thursdays are for — for Grey's Anatomy and that's it. You both have been through so much over the years that you feel like you could be one of the doctors at Seattle Grace. You know your BFF is "your person" aka the Cristina Yang to your Meredith Grey. You both don't know how you would get through life without the other, and you especially wouldn't get through a dramatic season without having your bestie by your side with a glass of wine. You even laugh at the same Grey's Anatomy memes.
You totally get the feeling of having your heart ripped out of your chest by Shonda Rhimes, and now you both can laugh at it together. That Shonda sure does know how to break your heart, but she has also given us so much more to love. Like you would have never been able to express how much your BFF means to you without Cristina and Meredith and the whole "you're my person." Yes, it's dramatic but you both love Grey's Anatomy. That's why these nine Grey's Anatomy memes can be shared between you and "your person," because you both totally get it.