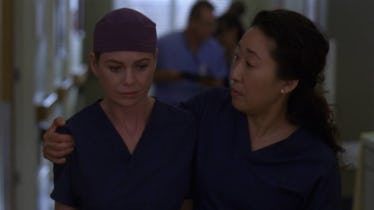 8 Similarities That Prove You & "Your Person" Are Actually Meredith & Cristina IRL
"Your person" is your best friend and other half. They complete you in a sense, and we have Cristina Yang from Grey's Anatomy to thank for coining the notorious phrase when she said Meredith Grey was her person. The two of them went through some pretty crazy things over the seasons that many of us can't relate to, but the one thing we all know is that we have someone in our lives who is the Meredith to our Cristina, or vice versa. You can even find things Meredith and Cristina do on Grey's Anatomy that you and "your person" also do.
If you take away the hospital drama aspect of the show, Grey's Anatomy could literally just be a documentary of your friendship. When you and your bestie watch the show, you can't help but say, "OMG, we're literally the same" when you see the things Meredith and Cristina do together on screen. In fact, you and "your person" have these eight similarities that prove that you are actually Meredith Grey and Cristina Yang IRL. You're living in your own Shondaland with your best friend forever — of course, with less drama, and more wine and dancing... but pretty much the same.