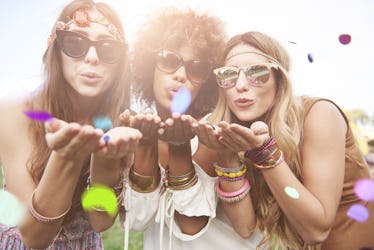 9 Glittery AF Products To Give Your Festival Look The Extra Vibes It Needs
gpointstudio/Shutterstock
This festival season, trade in your typical desert-wear for something with a little more sparkle: Glittery hair products, clothes, makeup, and accessories are ready for their day in the sun (literally). The disco-inspired aesthetic has trickled into fashion and pop culture, leaving us with stars in our eyes and glitter on… well, just about everything we own. And that's the way we like it.
Glitter is also a major multitasker. It catches the light, giving you your own personal spotlight like you're the headliner of your own show. It can make you feel like a rock star — while watching rock stars. And sure, it can be a little extra, but it's festival season! You're supposed to be a little extra. In partnership with Sexy Hair, we've rounded up nine glittery AF products that will make you sparkle from head to toe at all the festivals on your calendar this year.
Available in 24 Karat (a luxe gold) and Amethyst Sparkle (an iridescent purple), Sexy Hair's Fun Sexy Hair Bling It On glitter hairspray will decorate your strands and hold them in place while you dance the night away.
Upgrade your weekend bag with this glittering luggage tag. Your pack will stand out from the rest, and every time you see that celebratory sparkle, you'll get excited to party all over again.
Dab this mirrored gel on your cheeks, your lids, or wherever you need a little pizzazz. It stays put with zero fallout until you wash it off.
This case protects your phone and looks great making a cameo in a mirror selfie. Best of all, it's so eye-conic (get it?), you can hold it up so your friends can spot you in a sea of festival goers.
With this unicorn jelly face mask, take wild photos while nourishing your skin with collagen, vitamin B, and ferulic acid.
When you escape the heat and head poolside, make sure to snap a photo in this adorable heart-shaped floatie. (Bonus points if you wear heart-shaped sunglasses, too.)
Protect your toes from dancing crowds with these statement boots from Dr. Martens — a rebel staple with a pink makeover.
Channel your inner (and outer) rock goddess with this crystal-studded denim jacket, perfect for chillier nights outside.
Keep your nails looking shimmery and vibrant with this glittery, confetti-like polish, available in a wide range of colors.
This post is sponsored by Sexy Hair.
Design: Emma Muro/BDG
This article was originally published on