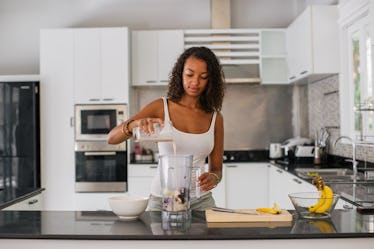 Experts Reveal The 9 Best Foods To Eat When Your Muscles Are Sore AF After A Workout
You know the feeling when you're so ridiculously sore after an intense workout that you can barely convince yourself to stand up, let alone execute normal, everyday activities? Like that time you challenged yourself to do 100 squats in one workout, or that fitness class you went to that, for some reason, focused on burpees way too much? Same, girl. The thing is, though, you may have been able to prevent a solid amount of your discomfort by including a couple of foods for sore muscles in your post-workout meal.
But before we get into what those yummy foods are, let's talk about why that soreness happens in the first place. According to Pete McCall, an exercise physiologist and a certified American Council on Exercise (ACE) personal trainer, delayed onset muscle soreness (DOMS) is "a response to damaged individual muscle fibers." He told Women's Health, "The very easy explanation is that you break muscle fibers down during exercise, and then your body builds them back up while healing, causing inflammation." So, basically, even though soreness doesn't exactly feel pleasant, it usually means you did something right in your workout, and as a result, your muscles are growing, repairing, and making you stronger.
You can ease your sore muscles after a workout in a lot of different ways — foam rolling, cooling down with the right stretches, etc. — but you might not know that there are certain foods that can not only relieve your soreness, but help your muscles recover more quickly, too. Try incorporating any of these nine foods into your post-workout snacks so you can get back to killin' the game at SoulCycle.