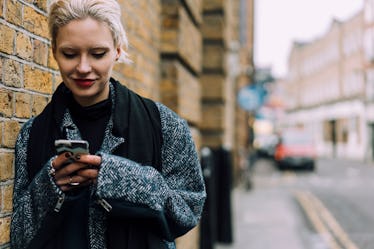 9 Dating App Bios You Should Steal For The Holiday Season, Because They Sleigh
In case you've been hiding under a rock and haven't noticed — it's the holiday season, baby! It's time to hang up some decorations, blast some cheesy holiday tunes, and bust out your finest holiday sweater. While you're in the decorating mood, you might also want to spruce up your dating app bios with something a little more festive than your normal info! Sure, you still want to be witty, truthful, and interesting, but consider giving these dating app bio ideas for the 2018 holidays a chance!
When I'm swiping through my apps, I always find myself drawn to a bio that's funny, punny, and tells me a little bit about the person's personality. I also really love it when I can tell that someone doesn't take themselves too seriously, so making a festive update to your dating app bio can be the perfect way to let a potential match know that you're all about celebrating the holidays. Even if you don't particularly care for trimming the tree, or lighting candles, or wrapping gifts, everyone can most likely appreciate a solid holiday pun! And while you can't learn everything about someone from their bio, it's a great way to snag someone's attention and get that match!