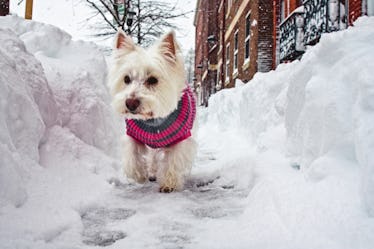 9 Incredibly Adorable Dogs Dressed Up For Winter Who Deserve All The Cuddles
It's time to start preparing for a super cold winter. You already thought it was cold out, but now you're stocking up on winter coats, hats, and scarves for the chillier days to come. And those cozy essentials are not just for you, either. Even though they have a luxurious coat of fur already to keep them warm, some dogs need the extra layers to stay comfy this time of year. An added bonus is seeing these incredibly adorable dogs dressed up for the winter will warm your insides, too.
If you have your own pup at home, you know how much your furry friend can keep you warm during the cold months, when you're staying inside and cuddling. You also know that your doggo loves going outside to play in the snow, but as a dog mom, you know the importance of layers. Even if your dog doesn't necessarily need the winter coat, you throw it on because let's be real, your pooch looks too cute in it not to.
You cannot lie that looking at these nine dogs dressed up in their winter best make your heart melt, and you know all of these pooches deserve all the extra wintertime cuddles. So, if you have a dog at home, make sure you snuggle close under some blankets, and the rest of us can just look at these pups to keep us all toasty on the inside.