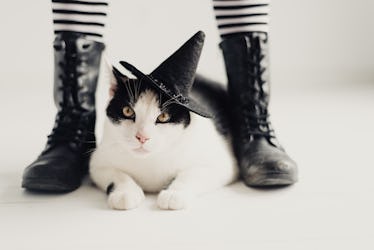 9 Cute Halloween Costumes To Wear With Your Cat That Are Absolutely Purrfect
If you're a cat mom like me, I'm sure you've been to the pet store multiple times already and noticed that Halloween costumes have filled up the aisles. Sure, most of them may be intended "for dogs," but we all know our fuzzy friends want to get in on the holiday spirit of things as well. It's perfectly adorable to get your hands on some costumes to wear with your cat this Halloween. In fact, you can pair up for a perfectly festive duo that will make all of your friends scrolling through Instagram smile uncontrollably.
It usually helps to start with the cat costume and work on yours from there, but there are plenty of homemade costumes you can put together, so the possibilities and creative spins are truly endless. If you need some inspiration to get started, here are nine downright adorable cat and owner Halloween costumes. Now, my Pinterest board is currently overflowing with the best ideas to rock with my cat. Whether you're dressing up your cat for your enjoyment, or going to a party where felines are invited (btw, please invite me), don't forget to take all the pictures you want, because you don't want to forget this Halloween.