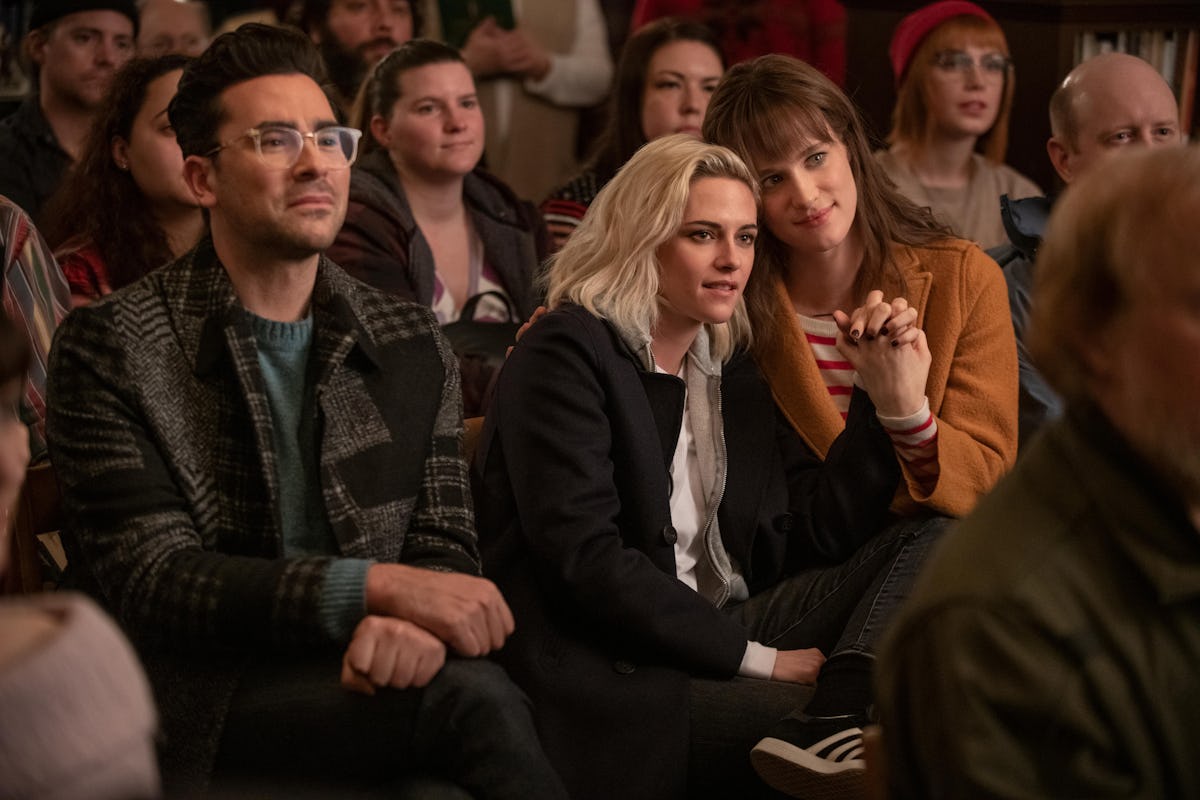 9 Christmas Movies On Hulu That Make A Perfect Holiday Streaming Marathon
Lacey Terrell/Hulu
The holiday season is here at last, and that means it's time to plop down and watch a ton of festive movies. There's just something so special about wrapping yourself up in a blanket while the snow falls outside and getting lost in some great — or even not-so-great — Christmas movies. All you need to start your holiday movie magic is a Hulu subscription. So, check out this list of Christmas movies available on Hulu to give you some great ideas for what to watch this holiday season, and start planning out your movie marathon.
For a lot of movie fans, the month of December is solely devoted to getting in the holiday spirit with movies themed around Christmas. Hulu's selection is perfect for everyone, whether you are looking for a critically acclaimed recent release about the holidays, a quirky new take on the genre, or the tried and true territory of those predictable and comforting Lifetime and Hallmark movies that come out in droves at the end of every year. The streamer even implemented a holiday hub especially for its Christmas content to make it easier than ever to find a flick. Here are some of the standout offerings on Hulu this holiday season:
1. Happiest Season
There has been a lot of discussion over the lack of LGBTQ+ representation in holiday love stories, but that is starting to change. In 2020, Hulu delivered what is sure to be a classic in the genre with Happiest Season, a film with an all-star cast including Kristen Stewart, Aubrey Plaza, and Dan Levy, about a woman who's forced to hide her true self when visiting her girlfriend's family for the holidays. It's a fresh take on a holiday rom-com that's full of heart and humor.
2. Anna and the Apocalypse
In the mood for a Christmas movie that's unlike anything you've seen before? It's safe to say this festive musical about a zombie apocalypse is a total departure from what you'd expect from a holiday flick, and that may be just what you need this year. It's got tons of jokes, charming characters, and some seriously catchy original songs that you'll be humming into the new year.
3. A Very Brady Christmas
The holidays are all about surrounding yourself with familiar faces, and what could be more familiar than television's favorite family? The Brady Bunch's made-for-TV Christmas movie was the highest-rated TV movie of 1988, and it's still the perfect nostalgic choice for the holidays now that it's available to stream on Hulu.
4. The Spirit of Christmas
Let's be real — sometimes you're just craving a cheesy, silly Lifetime movie for your holiday comfort viewing, and it doesn't get much sillier than 2015's The Spirit of Christmas. The movie is about a lawyer who haggles with a ghost who's haunting the bed and breakfast she's trying to sell. You just can't ask for a better premise than that!
5. The March Sisters at Christmas
If you love Little Women, this loose adaptation of Louisa May Alcott's seminal work is the perfect choice for your holiday watchlist. The film modernizes the iconic characters, as the four sisters work together to fix up their family home to stop it from being sold at Christmastime.
6. The Man Who Invented Christmas
Everyone knows the classic holiday tale The Christmas Carol, but do you know the story behind the story? That's what this Dan Stevens-led 2017 biopic is all about. The movie focuses on Charles Dickens' inspiration behind what would go on to become one of the most well-known Christmas stories ever.
7. Abominable
If you are more into animated movies, then DreamWorks' recent release Abominable is a great choice for a movie on a winter night. The family-friendly flick is about a yeti making a dangerous journey home to the Himalayas, and while it's not specifically about Christmas, it's full of snowy scenes that will undoubtedly put you in the holiday spirit.
8. This Christmas
There's nothing like a big, feel-good family comedy for the holidays, and 2007's This Christmas is just that. The movie is inspired by the iconic Christmas song of the same name, and it's filled with uplifting musical performances as a large family navigates the ups and downs of a holiday together. Plus, the cast is packed with A-list talent, like Idris Elba, Regina King, and Loretta Devine.
9. Holly's Holiday
Another cheesy, feel-good option from Lifetime with a fantastical plot, Holly's Holiday is about a businesswoman obsessed with the idea of perfection who finally gets just what she's been dreaming of: the perfect boyfriend. Well, actually, he's a mannequin come to life, so he may actually be too perfect. If you're looking for a dose of Christmas magic with your holiday romance, this movie is a must.
This article was originally published on