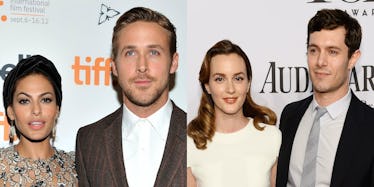 9 Celeb Couples That Are So Private, You're Almost Surprised They're Together
Sonia Recchia/Getty Images Entertainment/Getty Images Dimitrios Kambouris/Getty Images Entertainment/Getty Images
Relationships are hard. Relationships in the public eye? Even harder. With the Hollywood rumor mill on a constant cycle, celeb couples are plagued by cheating and breakup allegations on the regular. It's hardly a mystery as to why so few romances outlast the industry's expiration date. And while I love a good PDA moment or declaration of love as much, if not more than the next, it's the notoriously private celeb couples you forget are dating that seem to last the longest. Looks like the less you talk, the less you're talked about.
As the poster couple for remaining private on their private lives, Ryan Gosling and Eva Mendes have rarely spoken about their 7-year relationship. In fact, the pair has flown under the radar since they first sparked romance rumors on the set of The Place Beyond the Pines. Shortly after the film's premiere, Mendes admitted to Marie Claire that Gosling was her "dream costar." But when pushed on their IRL relationship, she shut down. "Stop, just stop. I'm not gonna budge. I feel uncomfortable talking about it. It's too personal." While the couple, mostly Gosling, has made the occasional public comment on their home life, they've remained relatively mum over the years. And it looks like its working in their favor. Is the key to a long, healthy Hollywood relationship actually just about privacy?
1. Leighton Meester and Adam Brody
While Blair Waldorf may have tied the knot with her infamous on-screen love interest, Chuck Bass back on Gossip Girl, and Adam Brody's beloved Seth Cohen made things official with high school sweetheart Summer Roberts on his own 2000s classic, The O.C., the real-life stars are actually married to each other. But despite ruling our television screens for the better part of a decade, Adam Brody and Leighton Meester have taken a lower-profile approach to their personal lives. After meeting on set of their 2011 flick The Oranges, the pals upgraded their working relationship when they were spotted "hanging out" in early 2013.
Despite appearing arm-in-arm on a red carpet or two, the ultra-private pair has kept their 5-year romance on the DL. After marrying in super-secret 2014 ceremony and welcoming their first daughter, Arlo Day, a year later, Meester made it clear her family isn't a topic for interviews.
"I don't talk about Arlo very much," she told Refinery29 when asked about her daughter. "I am very proud of that area of my life. But I'm also really proud of the show [Fox's now canceled Making History], and of the work I do."
2. Eva Mendes and Ryan Gosling
With Ryan Gosling and Eva Mendes' family life on lockdown, every little paparazzi shot, social media clue, or interview comment feels like breaking news, because it kind of is. As such, fans were shook when Gosling dished on his perfect woman to Hello! Magazine. When asked what qualities he looks for in a partner, the La La Land star said, "That she's Eva Mendes. There's nothing else I'm looking for." Did he steal that straight out of The Notebook?
3. Cameron Diaz and Benji Madden
I would have never in a million years put them together on my own, and yet, these opposites really do attract. Reportedly set up by Madden's sister-in-law Nicole Richie, Benji and Cameron Diaz embarked on a whirlwind romance. Only seven months after meeting, the tight-lipped twosome married at their shared Beverly Hills home. Diaz dished on her nuptials in a rare interview to Andy Cohen, saying, "We got married in our living room in front of our friends. Had a little party in our backyard on the tennis court and yeah." The "little party" included a star-studded guest list and bridesmaids, new sis-in-law Richie, Drew Barrymore and Cameron's sister, Chimene Cain.
Since tying the knot, the couple has remained relatively quiet about their relationship, and Diaz has very much exited the spotlight. "Her years with Benji have been enlightening for her," a source told People. "She has become a new person with more self-confidence and grounding. Cameron needed something different in her life, more substance and a relationship where she felt loved."
4. Natalie Portman and Benjamin Millepied
Natalie Portman and her choreographer-turned-hubby, Benjamin Millepied, have kept things low-key since meeting on set of the 2010 psychologic thriller Black Swan. Like, quietly marrying at home surrounded by only 60 guests low-key. According to reports, Portman nearly skipped a wedding dress altogether. Definitely your anti-bridezilla. Despite remaining relatively private about romance, the Academy Award-winning actress did admit she was more excited about the husband than the Oscar that came from her Black Swan gig.
5. Taylor Swift and Joe Alwyn
After a series of very public, very disastrous romances (remember those harsh Calvin Harris tweets?), Taylor Swift has taken a different approach to her relationship with British actor Joe Alwyn. After news of their across-the-pond affair hit the tabloids, E! revealed T-Swift had gone to great lengths to keep the budding romance out of the spotlight. A source told the publication,
Taylor has been in the UK a LOT more than people know ... She has the entire routine down pat now. People just won't see her. Unless you're part of her inner circle, you wouldn't know when she is or isn't here.
However, it was reported in May that Alwyn would be making a few stops around the states with Swift while she continues to tour for Reputation. A source for People confirmed that Taylor's beau would be joining her on a number of performances.
6. Meryl Streep and Don Gummer
Meryl Streep is everywhere: red carpets, award shows, film screens. And yet, I had zero idea she had a husband. Let alone a husband of 40 years! That's basically unheard of among A-listers. Have I, a self-proclaimed pop culture queen, fallen behind on one of Hollywood's longest relationships? Am I losing my edge? Despite being super adorable at a number of carpet appearances, there's not a ton of press on Meryl and her man, Don Gummer. The sculptor and his leading lady have kept their marriage largely out of the public eye.
7. Katie Holmes and Jamie Foxx
Although Katie Holmes' relationship with Tom Cruise played out very publicly (TBT to him jumping for joy on Oprah's couch), her post-divorce relationship with Jamie Foxx has looked a lot different. The pair has never in their reported 5-year romance confirmed the relationship. And although they've been spotted out together looking very couple-y, their most obvious show of support was sitting together at Clive Davis' Pre-Grammy Awards Gala. According to People, "They are happy, they just don't flaunt anything. Jamie will always go out of his way to stay discreet. That is his way, and it works for him. If they could stay secret forever, Jamie would be happy."
8. Kerry Washington and Nnamdi Asomugha
Kerry Washington's relationship with now-husband, former NFL star Nnamdi Asomugha was so private that fans were not only surprised she had gotten married in 2013, but that she had a boyfriend to begin with. Essence reported that the pair met while Washington was performing on Broadway in 2009, and despite informing the footballer that she "didn't date athletes," he argued that he didn't "date actresses." Clearly, they were both lying. One wedding and two children later, the Scandal star remains tight-lipped about the union.
While speaking on the New Rules of Social Stardom panel during the 2016 SXSW Music, Film + Interactive Festival, Washington said:
If I don't talk about my personal life, it means I don't talk about my personal life. That means not only did I not tell you when I was getting married, it also means if somebody has rumors about what's going on in my marriage, I don't refute them, because I don't talk about my personal life.
9. Zoe Saldana and Marco Perego-Saldana
While, Zoe Saldana has remained quiet about her relationship with handsome Italian artist Marco Perego-Saladana, we do know he values their equal partnership. Ummm, talk about hubby goals. Despite trying to talk her husband out of it, Perego-Saldana chose to take Zoe's last name.
"I tried to talk him out of it," Saldana told Instyle. "I told him, 'If you use my name, you're going to be emasculated by your community of artists, by your Latin community of men, by the world. Marco looks up at me and says, 'Ah, Zoe, I don't give a s**t.'"