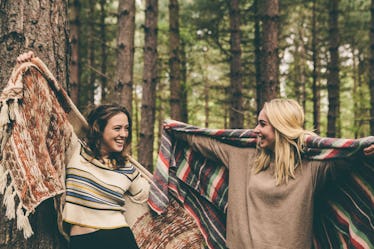 The Ultimate #NoRegrets List For Sisters Who Want This To Be The Best Fall Yet
There's nothing like celebrating a new season with the people you love most. Autumn is right around the corner, so it's time to get festive with your favorite sister. There are so many ways for both of you to bond over your love for fall. You can sip the classic PSL, head to a pumpkin patch, go camping in the woods, and do some leaf peeping. Let's just say, you'll never run out of things to do with each other. Here are some bucket list ideas for sisters who love fall most of all.
How often do you get to spend quality time with your sister? Life can get so busy, and sometimes you place plans with the people you love most on a back burner. Nobody will ever be able to replace the special bond you and your sister have, so you should spend time with each other whenever you can. We can all bond over our love for seasons because they have a such a strong affect on our moods. The changing leaves and crisp autumn air put many people in awesome moods, so why not embrace it? It's time to get festive AF this fall and share those good times with your sister! Happy fall, y'all.