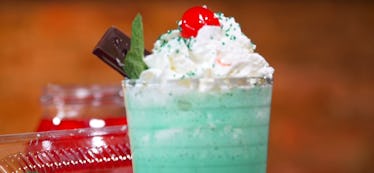 9 Recipes For Boozy Shamrock Shakes, Because This Combo Is Mint To Be
We've waited what has seemed like an eternity, and finally, it's back! I'm talking about the Shamrock Shake at McDonald's, of course. It's that refreshing, minty green shake that comes just in time for St. Patrick's Day. McDonald's toys with our emotions by making this tasty treat only available for a limited time — and the struggle is all too real. Lucky for us, there are some recipes online so we can make our own Shamrock Shakes year-round. Spice up that St. Patty's Day treat — if you're 21 and up — with boozy Shamrock Shake recipes.
St. Patrick's Day is the perfect holiday to treat yourself with an adult beverage, so why not mix alcohol and a delicious mint milkshake? It's the perfect combination of sweet and boozy. I'm truly feeling that luck of the Irish, because we've hit the jackpot with these nine recipes. There are so many tutorials to choose from, so try one or try them all.
Why not have your squad over for a Shamrock Shake party this year? It already sounds like the best St. Pat's Day party I've ever been to, so mix up some tasty drinks and have a shamrockin' good time with your favorite people on this holiday.