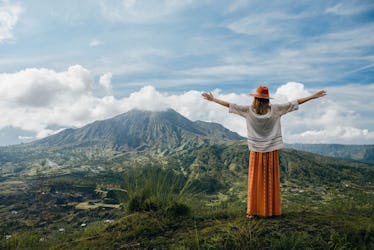 The 9 Best Black Friday Travel Deals, So You Can Satisfy Your Wanderlust For Less
As a wanderluster, you have a bucket list filled with dreamy destinations, and you're longing to visit as many as possible. But, it's no secret that traveling is quite expensive, especially when you're trying to head abroad. When you start calculating costs of airfare, accommodations, food, and even souvenirs, traveling seems less and less likely if you're balling on a budget. However, lucky for you, a bunch of hotels and travel providers are offering Black Friday 2018 travel sales, so you can satisfy your wanderlust for less.
I am no stranger to going way over budget when it comes to spoiling myself on my bucket list activities, travel included. I'm a firm believer in making traveling a priority in my 20s, and unfortunately, my indulgence sometimes sets me back financially a little more than I expected it would. But, there's nothing more special than visiting a new place, and I think that what you gain when you travel is well-worth the price tag.
That being said, I'll never say no to a good sale, especially when it comes to feeding my travel habit. I couldn't be more excited that these amazing destinations are offering sales so that millennials can plan out their 2019 travels. And if you're looking for even more savings, make sure you check out Skyscanner's Cyber Monday radar, which is keeping track of sales on popular flights and popular airlines for Cyber Monday.