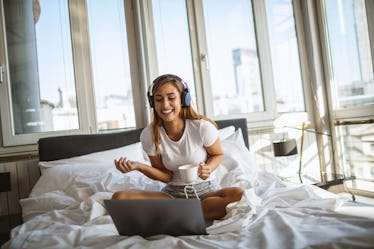 These Virtual Escape Rooms Are A Rad Adventure You Can Take At Home
MilosStankovic/E+/Getty Images
If you've ever wanted to try an escape room, but would much rather do so from the comfort (and, let's be honest, free will) of your home, you're in luck. Like the world's most iconic museums and stunning parks, you can now adventure around an escape room with just a laptop and internet connection. Warm up with some coffee and a basic puzzle app on your phone. Then, get ready for some quality fun. The best virtual escape rooms have entered the chat, and they're more than ready to challenge your crew.
Let's talk about how they typically work, so you know what to expect. These virtual escape rooms are similar to what you'd experience IRL. They bring you through a set of puzzles that you have to solve in order to advance, and a storyline that's supposed to be cracked within a certain period of time. Some of them are free and can be accessed at any time, while others require you to pay to participate, and ask that a minimum of three or so players are involved. In addition, some come with a magical theme or a subscription box that'll really upgrade your gameplay.
To start, simply toss on some comfy clothes, gather up your friends, and book one of these nine virtual escape rooms.