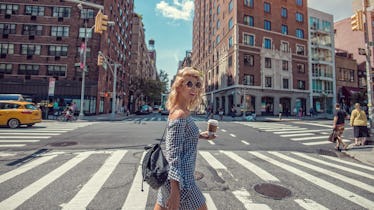 Being A Millennial In NYC Means You Wouldn't Trade These 9 Things For The World
There's no doubt about it: New York City is one of the best places in the world. A tourist may know it as The Big Apple, The City That Never Sleeps, and a destination that has the most amazing bagels and pizza. However, for millennials who call it home, they know the best things about living in NYC that can't really be included in any travel guide. NYC is filled with endless opportunities, Instagrammable moments, trendy restaurants, unique activities, and wonderful people who make it a prime place to live in your 20s.
I lived in NYC for seven years, and to be honest, they were the best years of my life thus far. Those iconic tourist shirts are correct, and I really do heart NYC. On any given night, I could be eating amazing food, catching an incredible musical performance on a subway platform, seeing a Broadway show, or window shopping while taking a stroll in the East Village. Every day had a different adventure, and I loved it so much. Even though I'm located in L.A. now, I'll forever dream about these nine things that make NYC so magical.
Whether you're looking to make the move, or already call this great city your home, you know how the Alicia Keys lyrics go: It's the "concrete jungle where dreams are made of."