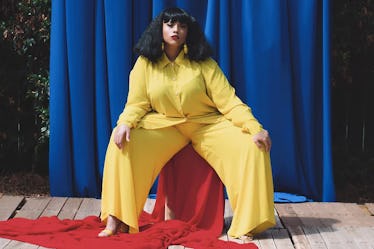 9 Plus-Size Fashion Brands To Keep An Eye On In 2019
Zelie For She
Mainstream plus-size fashion sometimes seems to take one step forward only to take two (or five) back. One minute, a proudly plus-size model will grace the cover of a legacy women's publication. The next, a major brand will choose to feature straight-size models in its plus-size marketing imagery. Or, worse still, a brand will feature a plus-size model, while still not making clothes for actual plus-size humans. But even so, there are some incredible plus-size brands to know about in 2019.
There are more options than ever before when it comes to shopping smaller or independent plus-size brands. You know, the brands that have historically always had our backs. They can be counted on to create the most groundbreaking styles — the ones big-name companies have long insisted plus-size people would never wear. They usually take the most risks, have the most inclusive size ranges, and shoot the most diverse imagery. They design the pieces we've been asking for through the years, whether that be something loud and outlandish, or minimalist and practical.
If 2019 is anything like the couple of years we've just come out of, plus-size customers may keep hearing all about "inclusive," "body positive" companies that promise to make "clothes for all sizes" while only really catering to the size 8-20 consumer. Amidst all that, though, there are brands doing much better by plus-size babes. Most are led by plus-size women and femmes, for plus-size women and femmes. All are led by people who realize the magic that can happen when you simply listen to the people you're trying to make clothes for.