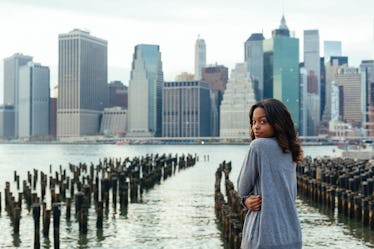 9 Dream Millennial Travel Destinations That You Need On Your Radar For Right Now
Good Vibrations Images, Stocksy
Being a millennial means a few things. You likely remember when the first iPod came out, and when scrunchies were the next best thing. You've explained a meme to your dad, or the phrase "the struggle is real." But most importantly, you're obsessed with traveling, and it shows. You have itineraries noted in your phone, a passport that's always renewed, and a suitcase packed and ready to go. All you really need are some of the best millennial travel destinations — the places that aren't even on your radar yet. *Cue the gasps.* Shocking, I know.
You see, currently, your bucket list is full of experiences and excursions that you saw on Instagram. You want to go on a walking tour of the colorful walls on Melrose Avenue in Los Angeles, or the castles in Prague that look picture-perfect. Then, you want to bask under the palm trees and sunshine in Tulum, and swim in the blue waters of the Phi Phi Islands in Thailand. Last but not least, you want to see the Eiffel Tower in Paris.
That's all well-worth your time and money. But, don't limit yourself to just what everyone else has seen and done. Expand your bucket list, follow your wanderlust, and keep that love affair with travel alive and well. Start by putting these nine destinations for millennials on your radar and booking a plane ticket to them, like right now.