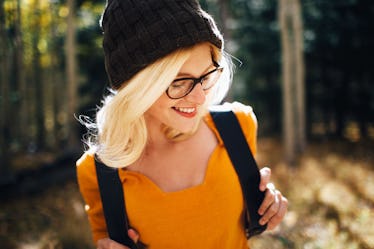 The 9 Best Tips You Should Know If You Want To Get Into Hiking This Summer
As the weather gets warmer, you might be considering taking your workout outdoors to soak in all that vitamin D. And if you've ever dabbled in hiking, then you know taking on the trails is such an incredible way to connect with nature, clear your mind, and fill your lungs with glorious amounts of fresh air. But hey, even if you're a beginner, these hiking tips will make you feel comfortable and safe out there in the wilderness, even if it's something you're low-key scared of doing for an entire day.
If you ask me, hiking is such an underrated way of not only staying active, but enjoying the gorgeous summer weather, too. According to Huffington Post, a good hike can literally make you a happier and healthier person from the inside out. From lowering blood pressure, to reducing the risk of stroke, diabetes, and heart disease, there's really no reason not to break out those hiking boots when the weather warms up, the sun is shining, and nature is clearly calling your name.
However, there are some things to keep in mind before, during, and after your hikes so that you'll get the most out of your outdoor adventures. Here are nine tips to help you stay safe, comfortable, and happy during your time in nature.