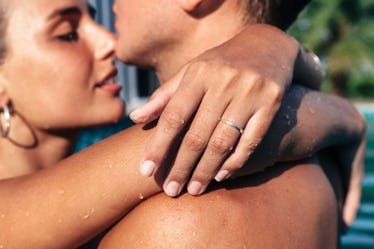 8 Totally Normal Things That Happen To Everyone After Sex, So Don't Freak Out
Let's talk about sex, shall we? Sex isn't always pretty, that's for sure, and it can sometimes be scary and confusing. But it's part of what makes us human, and as a former cultural anthropology major, I would just like to appreciate that, OK? And even though every sexual encounter is different, there are a number of totally normal things that happen to everyone after sex that are worth discussing. Because, no, it's not just you, and yes, you're totally normal. So don't freak out!
Sex doesn't always happen the way 2000s-era rom-coms made it look — featuring two people just making out, holding each other tightly, finishing at the same time and emerging with hair and makeup still perfectly intact. Yeah, right. And if you're a person with a vagina, then you've probably experienced certain bodily sensations afterwards that can feel uncomfortable, depending on how your body reacts.
Plus, what about the awkward AF things that happen after sex when your partner just doesn't get the message? If you're not both on the same page pre-hookup, then you might be in for an uncomfortable shuffle post-coitus. Several scenarios can ensue, and it's never one-size-fits-all so there's no one way to really prepare. But what we can do is LOL and commiserate together over these totally normal, no-need-to-worry, it-literally-happens-to-everyone scenarios.