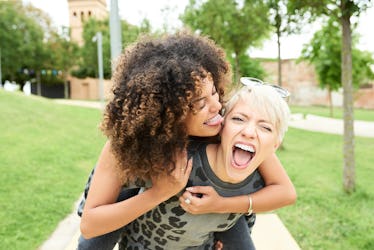 8 Times You've Almost Peed Your Pants Laughing With Your Bestie
There's nothing better than giggling until your stomach hurts with your best friend. Even the smallest things can start a laugh session that the two of you can't escape without doing the "about to pee my pants" wiggles. Looking back on all of the times you've almost peed your pants laughing with your BFF will remind you of just how lucky you are to have her in your life.
Your inside jokes are downright hilarious, and you're making new ones every time the two of you hang out. You're so close that even one peculiar look at her can trigger those random laughing fits in the middle of a crowded street. Real talk: How did you two get to be so funny?
Laughter is good for the soul, and you can always count on some sort of giggling to go down when you're with your forever friend. You laugh at each other, because you don't take life so seriously. When one of you is feeling blue, the other is acting like a total fool to get you to crack a smile and cheer up. Just call her your comedic relief in human form, because you guys are on a different level of funny. So, I shouldn't have to remind you that these are eight times you'll forever be darting for the bathroom with your bestie.