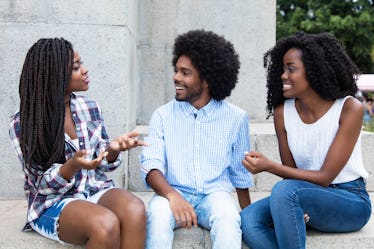 8 Amazing Things Your Siblings Taught You That You Won't Admit Until Your 20s
Growing up, your siblings may have gotten on your nerves, borrowed things without asking, and tattled on you to your parents, but you know deep down that you're forever grateful to have them in your life. They were your first BFFs, and the people you feel most like yourself when they're around. There are even things your siblings teach you that are invaluable life lessons you keep close in your 20s, and hold onto forever.
Of course, your pride would have never let you admit how much help they were to you growing up. However, now that you're in your 20s, you can finally speak your truth. I've definitely noticed that my relationship with my sister has only improved now that we're in our 20s. We used to fight a lot — as sisters do — when we were kids. It wasn't until she went off to college when I realized how much of a best friend she was to me. Now, we are the closest we've ever been, even though we live long-distance.
As my older sister, she definitely taught me a lot that may not have been very obvious to me at the time. Now, I'm very aware and proud to admit that I'm a better person because of these eight things my sister showed me. You may notice the same life lessons you received from your siblings, and it's finally time to send them a little "thank you" text to show how much you care.