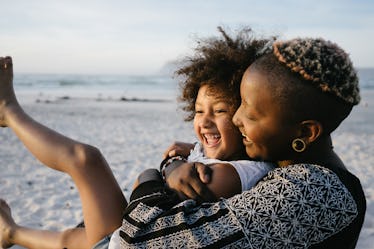 8 Things You Should Really Tell Your Mom On Mother's Day
Are you ready to be on your A-game this Mother's Day? Don't worry — that doesn't mean running out to the store to buy a super expensive gift. Think about all of the amazing things you forget to tell your mom, or mom figure in your life, on the regular, and get ready to pour your heart out. There are some things you should say to your mom on Mother's Day that will mean the world to her, more than a material gift ever could.
Although it's a thoughtful gesture, the gifts, chocolate, and bouquets you purchase for Mom won't last forever. Hearing you say something so sweet and genuine will be engraved in her mind and heart for eternity. Your mom has watched you grow up, delivered the most crucial life advice (even when you didn't want to hear it), and is proud of you every single day. You owe it to her to express how much of a beautiful soul you think she is.
No matter how many gifts you get her, nothing will equate to a few sweet words from her baby girl. These could be things you forget to say on the regular, because life and responsibilities get in the way. Your mom will unwrap something unforgettable that can't be bought in the store if you say any of these eight things to her this Mother's Day.