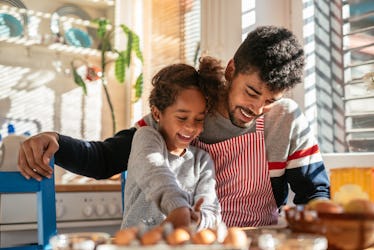 8 Underrated Things You Forget To Thank Your Dad For & Really Should ASAP
Father's Day shouldn't be the only time kids praise their dads for being some of the most selfless and awesome humans on this Earth. Dads are naturally the best advice givers, and just looking at them reminds us of all of the unforgettable memories they created for us as we were growing up. And while your glue-soaked, macaroni cards may have sufficed when you were younger, you should now have a better understanding of those things to thank your dad for, because he never clocks out of being the real MVP.
It's easy to overlook the tremendous things that dads do on the regular, because they do them so effortlessly and without expecting a praise parade in return. Those small things really add up, and before you know it, you have to sit back and realize that you've accomplished and overcome so much because of an endlessly helpful superhero — your dad.
Dad is always saving the day and helping you in some way. Yeah, you may expect that kind of devotion because he's your dad, but a good amount of thank you's are most definitely in order. The list could likely go on for days, but when it comes to the little, yet big things, there are more than a couple of instances our dads deserve our gratitude.