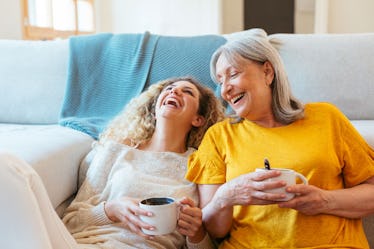 8 Things Mom Predicted About Your Love Life That Made You Roll Your Eyes As A Teen
Growing up, your mom likely provided golden advice about life, love, and friendships. But many times, teenage you was too stubborn to listen to any of it. Now that you're older, you know the things mom predicted about your love life were so true. You try to not act too shocked when these epiphanies unfold IRL, but it's pretty surreal every single time.
How the heck was Mom so spot on since day one? While you were busy rolling your eyes, she was literally drawing a road map of your love life. And even though you had your license or permit back then, you had no intention of following her directions. What can you say? Your teenage years consisted of wanting to grow up and thinking you had it all figured it out on your own. Leave it to Mom to always know what's up.
You may have heard these predictions earlier than you wanted to, but now, you're paying extra close attention to Mom's endless wisdom. You can't go wrong with a little guidance in your love life, am I right? You don't have to admit that she had the answers all along, but your mom hit these eight things on the nose.