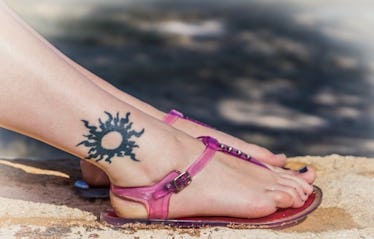 8 Sunshine Tattoo Ideas That'll Brighten Up Your World
Mr. Sun, it's true — "you are my sunshine, my only sunshine," and I know summer is on its way by the warmth I feel when I step outside. The rays that shine down on us are like the sun is extending its arms for a big hug. You can't deny that everyone seems so much happier when the sun is out and the skies are so blue, so it's no wonder sunshine tattoo ideas are really popular.
When you're thinking of what to ink, you'll want a design that not only represents who you are, but gives off a great message and looks super cool. That's why a sun tattoo is an ultimate choice. When you see someone with a sunshine tattoo, you immediately know this person is all about embracing those sunny vibes. If you think about it, the sun comes out when it's a new day, so it also represents bright beginnings.
Sun tattoos are also great for a summer-loving girl to have when she's just dreaming of beach days during the coldest winter months. A sun tat is also a perfect idea for matching tats between friends and family, because like the sun, that person is your sunshine and "make[s] [you] happy when skies are grey." There are many reasons to get this special design, so if you're looking to get a new tat, here are eight sunshine tattoos ideas for inspiration that will give you a good dose of that Vitamin D.