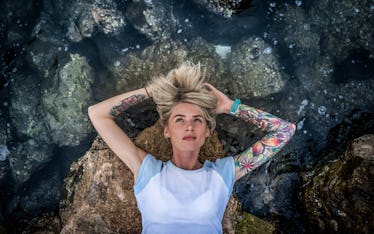 7 Ocean Tattoo Ideas That Are Anything But A Subtle Wave
Excuse me, but I believe I hear a ringing. It sounds like the waves of the ocean, because just like Moana, the sea is calling you. It's the ocean, after all, and I fully understand why the salty air is drawing you in. Not only is it so tempting to jump into the waves, but relaxing on the sand with the warm sunshine beating down on you is too good to pass up. Unfortunately, we can't always be chilling at the beach, so you'll need some ocean tattoo ideas to carry the sea with you, no matter where you are in the world.
Your passion for the ocean doesn't just have to be with how you spend your spare time, or where you plan your next vacay. You can also show off your love with some ocean-inspired ink that's not just a subtle wave on your arm. There's so much to explore in the ocean, and so much we haven't even discovered yet, so the possibilities for a tattoo are endless.
However, if you are looking for a little help coming up with what to get, here are seven ocean tattoos ideas to dive into. You will definitely want to sea some ocean ink on yourself.