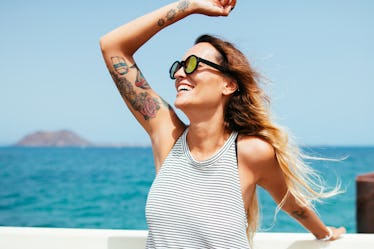 7 Beach Tattoo Ideas, So You Can Always Have A Piece Of Your Happy Place With You
Everyone has a happy place. Some people find so much solace in their room, while other people love concerts and feel so at home at music festivals. Some have a sweet spot for quaint, trendy coffee shops. But you personally like your happy place to be a little more on the tropical side. Your happy place is the beach — you live for the summer, having the sunshine on your face, and the sand between your toes. It's the key to you reaching ultimate relaxation mode. There's something about being there that lets all of your worries melt away. Even the biggest issues seem small when you're at the beach. Unfortunately, you can't always be at your happy place, which is why some beach tattoo ideas come in handy.
I mean, if you think about it, many beach lovers get the short end of the stick. If a coffee shop is your happy place, you can get there pretty much anytime, anywhere — but if your happy place is a beach, there are a few more requirements to be fulfilled, such as good weather, access, and your beach essentials.
Basically, your happy place takes some work to get to. But no worries, because you don't always have to be at your happy place to feel the amazing effects of it. A tattoo can do your place just as much justice, and sometimes it's all you need to get yourself back on track. These eight beach tattoo ideas will have you daydreaming of vitamin sea in no time.