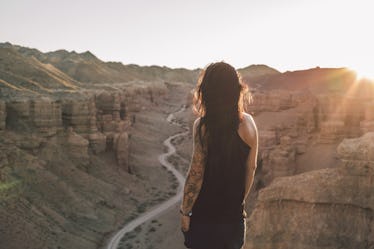 8 Subtle Travel Tattoos That Are Constant Reminders Of Your Beautiful Adventures
We all have a bucket list of things we want to do and places we're dreaming to explore. Even if you're not one to write things down in a journal, you have a running list in the back of your mind — and it continues to grow. For all of the travelers out there, I'm certain you're already planning out your next adventure at this very moment. You've definitely got wanderlust inside of you, and need to follow it wherever it may lead. Perhaps that wanderlust is even convincing you to head on over to a tattoo parlor. If so, you should definitely scope out subtle travel tattoo ideas beforehand for some necessary inspo.
It's clear that you have the travel bug, and you're all for it. Heading to your next destination is all you can think about, so it makes sense that you'd want to keep that constant reminder nearby with some travel-inspired ink. From your rolling suitcase and passport in hand, people can already tell you're an avid adventurer — and this subtle ink just confirms it. So, when you're sitting at your desk job looking up flights to your next stop, you'll look down at your adorable globe tattoo and be reminded of all the places you plan on checking out in the near future.