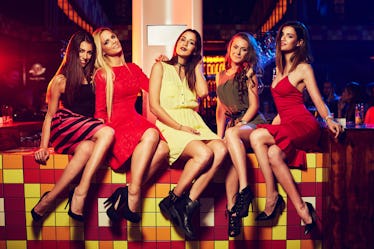 8 Real Struggles Every 20-Something Deals With On Girls' Night Out
Girls' night out is a must for any crew. It's the one night where you get to catch up with your favorite people, wear the new leather jacket you treated yo' self to, and check out that trendy wine bar downtown. As wonderful as your number one squad is, sometimes your G.N.O. can be a night of struggle after struggle. Luckily, you and your besties can eventually laugh about it all later on. (But let's also be real: There are always a few struggles you deal with on girls' night out).
A perfect night with your friends isn't always as easy as it seems in your throwback Insta pics. There's a lot of planning and prepping involved in the group chat. Even when you think you've planned it all perfectly, there may still be a few obstacles standing in your way. At the end of the day, though, you're hanging with your favorite humans, and that's all that really matters. So, when it comes to these eight struggles, you know them oh-so-well, and they are relatable AF. However, they're not going to stop the fun. Just remember to snap one hell of a #SquadGoals pic in your awesome outfits and have a blast. Also, maybe next week, suggest a girls' night in to even it all out.