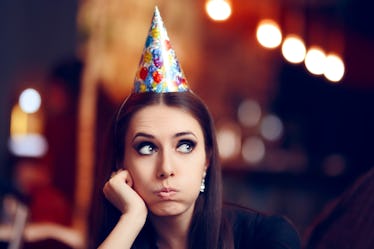 8 Relatable AF Struggles Of Going Out When You'd Much Rather Be Lazy At Home
Oh no — the dreaded Friday night is here yet again, and your friends are hitting up the group text for plans to go out. Don't get me wrong, you love Friday night, but you'd rather be relaxing at home after an exhausting week at work. Instead of going out to a crowded bar, wearing heels, and making small talk, you just want to be cuddling up in your sweats on the couch watching Netflix. Unfortunately, your friends are demanding your presence, and they will never really know the struggles of going out when you just feel like being lazy AF at home.
Sure, you want to see your friends, but you'd really rather be surrounded by pizza that you had delivered directly to your apartment. A girls' night in is the lazy girl's dream Friday night event. Whereas, a girls' night out makes you want to say, "Heck no."
Your friends just don't understand, and should be more appreciative when you're able to throw on some pants and make it out to the club. You really did have a great excuse to text them, but you're there. Someone get this girl a medal for making it out with her friends when all she's doing is dreaming of her couch, and dealing with these eight struggles that are all too real.