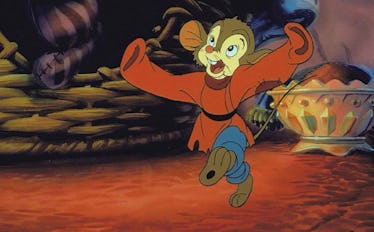 These Streaming Hanukkah Movies Are Perfect For The Whole Family
Universal Pictures
Christmas comes but once a year, but Hanukkah shows up and stays for eight entire nights. Somehow, the Hanukkah movies don't though. While Lifetime, AMC, Hallmark and Freeform are so full of Christmas films one might accidentally burst and get tinsel all over the rug, Jewish families must turn to streaming services to round up enough films to fill all eight evenings after everyone is too full of latkes to move. These streaming Hanukkah movies are perfect for families ages 3 to 103, and uplifting for everyone to watch.
As usual, before diving in, it's time to get a little Seinfeld and do an Airing of Grievances at the lack of offerings from any particular streaming service. Some people complain how the entertainment industry is run by Jewish people, but you wouldn't know it from the millions of Christmas films and only small tokens towards Hanukkah movies. Hallmark may be promising a Hanukkah film or two for 2019, but as it stands, the ratio of Christmas to Hanukkah films is overwhelming.
Still, despite an errand Christmas tree or two, between Netflix, Amazon Prime streaming rentals and a few YouTube offerings, I've been able to put together a cheerful family-friendly list everyone can enjoy this holiday season. Chag Sameach!